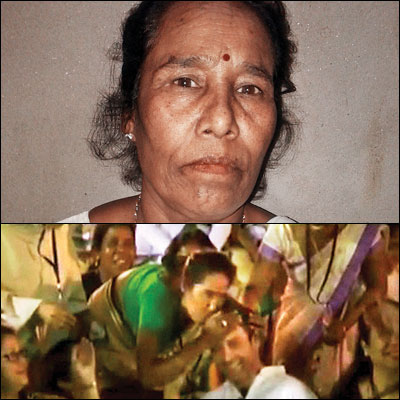 The Congress was recently mired in a blazing controversy after a woman in Assam was allegedly set afire by her husband who thought that she had kissed Rahul Gandhi during an interaction on women empowerment in Jorhat.
The woman who was burnt to death by her husband, was not the person who planted a motherly kiss on Rahul Gandhi in Jorhat. Now dna has tracked down the woman who had indeed kissed the Congress vice-president.
"He is like my son. By kissing him, I had blessed him to excel in his political career. I kissed him on the back of his head," 55-year-old Parasmoni Das told dna.
Das is unmarried, ekes out a living by weaving. She hails from river island Majuli, some 500km from Guwahati, and is a district Congress leader.
Narrating the incident, Das said she was sitting on the gallery right behind Rahul when the interaction was in progress. She said her action was impulsive and not a planned one.
"I saw several others trying to get close to him. As I was sitting right behind him, I felt like kissing him to bless him. When I did it, he said, thank you madam," Das said.
She appealed to the people to not read too much into it saying if she were married, she would have had a son of Gandhi's age.
Das said she didn't notice any other woman kissing the Congress leader and termed the incident in which a woman lost her life as unfortunate.
Das joined the Congress in 1982 and has been a very 'loyal party worker' ever since. "I have gone through very difficult time in my life. My father was a farmer and after his death about 35 years back, it fell upon me to run the family," said Das, who studied upto class V.
Of her two brothers, one is dead and the other is living elsewhere. Two of her three sisters, who are anganwadi assistants, stay with her while another is married.
"We weave gamchas and mekhealas (traditional Assamese clothes). My sisters run a shop in the town to sell the same," she said.
Das said she has not forgotten the days when Congress workers in Assam came under attacks from students who later floated Asom Gana Parishad (AGP). "During early 1980s prior to the formation of AGP government, Congress workers across the state were attacked by the students. Our house was also dismantled forcing me to flee to Guwahati. But I never left the Congress and have remained a very loyal party worker till date," she said.
Das said she could not get married as she had to look after the family. "When I could afford to get married, the age was not on my side," she said.