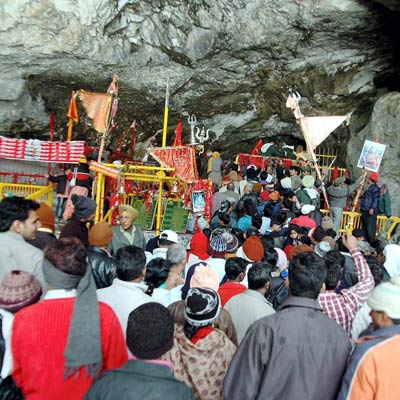 A 65-year-old woman pilgrim died en route to the 3,880 metre high holy cave shrine of Amarnath in south Kashmir Himalayas today, taking the death toll in the ongoing yatra to 13, officials said.
Meera Bai, a resident of Chennai, died after she suffered a massive heart attack at Panjtarni along the 45-km traditional Pahalgam route in Anantnag district, officials said.
With her death, a total of 13 pilgrims have died, mostly of cardiac arrest, since the commencement of the 44-day yatra on June 28.
Officials said the yatra was going on smoothly from both sides - the Pahalgam route and the shorter 16-km Baltal route in Ganderbal district - and so far over 1.37 lakh pilgrims had paid their obeisance at the cave shrine, housing the naturally formed ice-shivlingam.