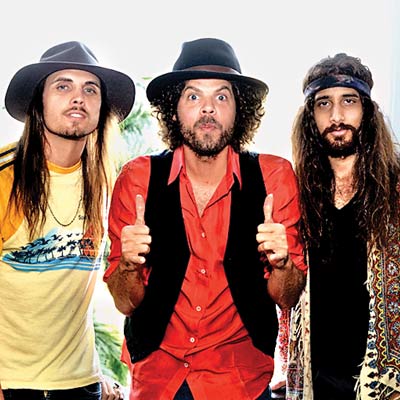 At 9pm on Wednesday, more than 200 people had queued up outside Hard Rock Cafe, Worli, hoping to get passes to watch Australian rockers, Wolfmother, to perform for the very first time in India. Though the tickets were already sold out three days before the gig, Mumbaikars still wanted to try their luck.
Going by the crowd lined up outside, one could imagine the popularity of this band. And that's exactly what one could see once inside the cafe. The place came alive with more than 850 avid music lovers and the sound of electric guitars filled the air.
The band, starting off with Woman, and went on to play other favourites like Colossal, 1,000 feet and Cosmic egg. They also played two songs from their new album that is slated to for a release this year. Keeping the best for last, they also faked an exit only to come back and play their famous song till date Joker and the thief, to which almost every person in the crowd sang along.
"The gig was mind blowing, I almost cried during the concert. I grew up listening to Wolfmother and I still can't believe, I saw them play all those songs right here in front of me", said Shohab Sheikh, a film editor.
The three member band consists of vocalist and guitarist Andrew Stockdale, drummer Vin Steele and Ian Peres on the bass and keyboards.
Mumbai was the first concert of their India tour after which they will play in Delhi and Hyderabad respectively.
The band was formed in 2000, and went on to release a self-titled album in 2005. Their sound is influenced by vintage rock bands such as Led Zeppelin and Black Sabbath and they have won numerous awards including a Grammy for their song Woman. Hollywood movies including Hangover and 500 Days of Summer feature their songs.