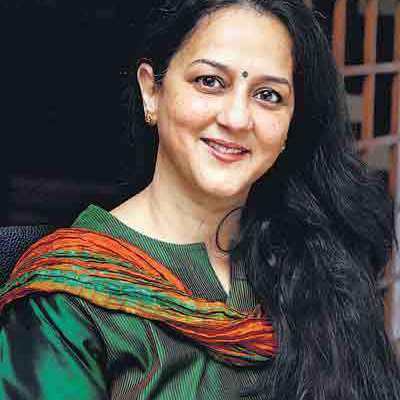 They are their better halves not just at their homes but also in their political aspirations. They get up early morning and set out for their day log battle of convincing people to vote for their husbands. Parks, slums, temples, all public places are a part of their itinerary.
Swati Verma, is the wife of Parvesh Verma, BJP's candidate from West Delhi constituency. She is an MBA from Bhopal University and uses her management knowledge in vote management.
Verma, a mother of three children has shelved her motherhood for the time being. She starts her day at 7:30 in the morning by meeting people in the parks or visiting the constituency slums. Back to back meeting and door to door campaigns keeps her busy for the rest of her day. She comes back home not before 11:30 - 12 in the night.
"I get to meet my daughters almost everyday, while they dress up for their school. However, I have not met my three year old son for the last five days who is generally sleeping when I come back from work," Verma told dna.
She has called her sisters and mother from Jaipur to take care of the children.
Talking about her experience she said it's nothing new for her. Ï used to campaign for my father when I was in school and now I campaign for my husband, "she said.
Except for the style of campaigning nothing much has changed. People are more informed about their rights and are more up front, "she added.
Middle aged Urmila Mishra, wife of Congress's candidate Mahabal Mishra from West Delhi constituency is not educated. She has studied till tenth standard. However her educational qualification is not a deterrent for her when she is on the campaign grounds.
Mishra who hails from Madhubani district in Bihar moves out in her constituency in a group of eight to ten women hands folded in gratitude, convincing voters to vote for her husband.
Clad in a cotton sari, and vermillion, her image is appealing for every middle class housewife.
"Women in my group largely consist of my neighbors. We go door to door to understand the grievances and problems of the residents, "she said.
Mishra's small town upbringing helps her get one with people living in the slums. She also talks about educating every girl child when she visits these families while she remained unprivileged.
"Our country has progressed so much that today you cannot suppress a girl's freedom," she said.
Mishra's daughter has completed her Bachelors of Arts from Delhi.
Radhika Maken is the wife of Ajay Maken a Congress MP who is contesting from New Delhi. She has a post graduate degree in Food and Nutrition Science. Maken who used to find these political activities awkward initially has become a pro at campaigning now.
Ï did my first campaigning for my husband in 1993. It was awkward for me initially. However gradually people's response and appreciation made me a pro at my work and I started enjoying it," Maken told dna.
Talking about her children Maken said that even if she is not able to spend time with her children due to hectic campaigning schedules, her kids keep calling her to update her minute by minute of what is happenings in news while she is out for campaigning.
"Interestingly kids are quite aware of political happenings. They keep giving me inputs,"she said.
Her day begins with pad-yatras in the slum clusters and is followed by ladies meetings. These meetings are organised at any particular lady's house in a colony, where everyone meets and discusses their issues such as water, electricity or even safety of women. "Sometimes even youth become a part of these meetings," she said.
They are not the only ones fighting hard for their husbands, there are many others across the country. Wife of Congress's Nandan Nilekani is busy meeting the party's volunteers to set Nilekani's agendas. Wife of another candidate Jai Prakash Agarwal, Sarita Agarwal too is campaigning for her husband.