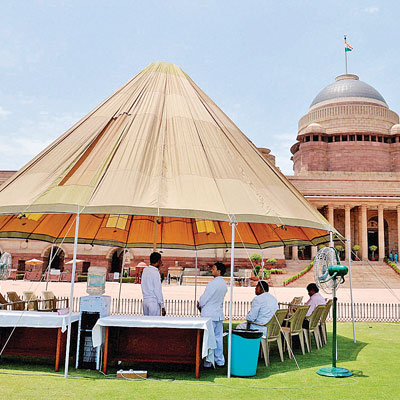 Even as political parties and candidates are awaiting the outcome of Lok Sabha elections with a bated breath, the action has shifted from political party headquarters and polling booths to the doors of President Pranabh Mukherjee, who will play a pivotal role in the formation of next government.
The Rashtrapati Bhawan had two important visitors on Tuesday, Congress president Sonia Gandhi and BJP leader Ravi Shankar Prasad. Though, offices of both these leaders stated, it was a courtesy call after a gruelling poll process, sources say, President wanted consultations on host of issues as many governors are seeking his consent to resign before the new government in Delhi takes over.
Some 19 Congress leaders in gubernatorial positions apprehend to face an axe, with the change of guard in Delhi. Hansraj Bhardwaj, the governor of Karnataka as well as Kamala Beniwal, governor of Gujarat are believed to have already submitted his resignation to Congress president Sonia Gandhi. The Congress high command has, however, asked all the governors desiring to be relieved of their duties to continue till the poll results are out, hoping for a miracle. The UPA government had appointed former Delhi chief minister Sheila Dikshit as governor of Kerala to circumvent questioning on her alleged involvement into the Commonwealth games.
Both Bhardwaj and Benilal have been at logger heads with the BJP governments in their respective states. The Gujarat governor in past has often joined issues with Gujarat Chief Minister Narendra Modi, now the BJP's prime ministerial candidate. Besides 19 political governors, 10 others governors drawn from bureaucracy and intelligence, however, seem placed comfortably. Beniwal had taken on Modi at several occasions, the latest being her rejection of the proposed Gujarat Lokayukta Commission Bill, even after its passage by the Assembly last April.
At the start of election process, President Mukherjee through her secretary Omita Paul had strictly asked governors to stay away from indirectly campaigning for any political party. They were told not to take any official tours to their home state, or seek leave or arrive Delhi during the period. The instructions were issued, when Mukherjee's attention was drawn to the visit of Chhattisgarh Governor Shekhar Dutt to Sriharikota to witness the launch of PSLV and his Tamil Nadu counterpart K Rosaiah going to Vijaywada to attend a ceremony held for Congress workers without informing the President's office.
Last week, President Mukherjee had met top legal brains apparently preparing himself for the formation of next government. Sources said, the President has also gone through past precedents and has been reading court judgements to decide his role in case a fractured mandate is thrown on Friday. One of his senior aide stated that President has called for all files pertaining to appointment of Vishwanath Pratap Singh in 1989, Atal Bihari Vajpayee in 1998 and P V Narasimha Rao in 1991-- all three minority governments. He has gone through handwritten notes of former Presidents, who appointed these prime ministers.
The Chief Election Commissioner V S Sampath is expected to meet President on May 18 to l submit the 543 names of elected MPs setting in motion the process of inviting the single largest party or the group to form the next government. It is believed in case of a fractured verdict, the new government will be asked to prove its majority on the floor of the House within 21 days.
Congress leaders who serve as governors:
Janaki Ballabh Patnaik (Odisha),
DY Patil (Bihar),
Kamala Beniwal (Gujarat),
Jagannath Pahadia (Haryana),
Urmila Singh (Himachal Pradesh),
Syed Ahmed (Jharkhand),
Hansraj Bhardwaj (Karnataka),
Sheila Dikshit (Kerala),
Ramnaresh Yadav (Madhya Pradesh),
K Sankaranarayanan (Maharashtra),
Vakkom B Purushothaman (Mizoram),
S C Jamir (Odisha),
Shivraj Patil (Punjab),
Margaret Alva (Rajasthan),
Konijeti Rosaiah (Tamil Nadu),
Devanand Konwar (Tripura),
Banwari Lal Joshi (Uttar Pradesh),
Aziz Qureshi (Uttarakhand) and
Virendra Kataria (Puducherry).