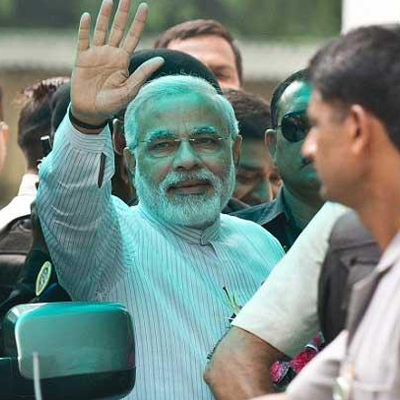 Since his appointment as prime minister, Narendra Modi's words and actions have hinted that he would be looking to implement policies that result in inclusive growth.
He had invited the opposition and South Asian Association for Regional Cooperation (SAARC)​ nations, including China and Pakistan, to his swearing in ceremony. Recently he also visited Jammu and Kashmir and said that he intended to win the hearts of people there.
The Budget 2014 indicated that the prime minister is making an effort to be seen positively by the people of Jammu and Kashmir, as there are sops not only for the Kashmiri Pandits, but for the entire state.
Kashmiri Pandits have been vocal about going back to their 'homeland' ever since the Bharatiya Janata Party (BJP) won the Lok Sabha elections. Rajnath Singh had been promising rehabilitation of Kashmiri Pandits and even met with J&K Chief Minister Omar Abdullah a few weeks ago.
Finance Minister Arun Jaitley has followed up with the promise in his budget announcement that a programme for Kashmiri migrants will be started with Rs 500 crore which shows the commitment of the government to the issue.
But it won't be just the Pandits who will benefit. A huge impetus to business will come from the Rs 50 crore Pashmina production programme meant for the state.
The government has also given a much needed shot in the arm to sports as Rs 200 crore will be set aside for the upgradation of indoor and outdoor stadiums that will match up to international standards. The government will be making provisions so that international events too will be held in the North and the Northeast.
It seems like Narendra Modi is trying really hard to win Kashmiri hearts after all.