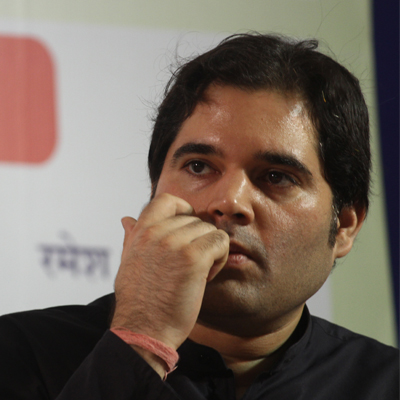 Feroze Varun Gandhi was born into India's political Nehru-Gandhi dynasty on March 13, 1980 to Maneka and Sanjay Gandhi. His father had succeeded Indira Gandhi as the head of Indian National Congress before being killed in a plane crash. Gandhi was three months old at that time. He soon lost his grandmother Indira Gandhi, former Indian prime minister at the age of four.
After his father's death, his mother Maneka Gandhi, animal rights activist and the former model turned politician broke away from the family legacy and created her own party Rashtriya Sanjay Manch in 1983. The future still held bolder political moves for the mother-son duo as Varun was only a child when his mother created her political party.
Varun Gandhi did his schooling from the Rishi Valley school and the British School in New Delhi.
He is a graduate from the London School of Economics. He completed his Masters in Public Policy from the School of Oriental and African Studies, University of London. In the year 1999, he began to attend political meetings in Pilibhit, Uttar Pradesh, his father's constituency.
According to his website, Gandhi is a prolific reader and fond of writing poetry. He wrote his first poem at the age of 17. In the year 2000, he published a volume of his poems called 'The Otherness of Self".
At that time as a young man, Gandhi was still contemplating joining politics. He had said that if he were to enter politics he would join a party that was 'secular and worked for the welfare of the poor'. In 2004, Maneka and Varun Gandhi joined the right-wing Hindu Nationalistic Bharatiya Janata Party (BJP). He campaigned for his mother who was fielded for the Pilibhit constituency that year to victory.
In 2009, the Varun Gandhi contested elections from his mother's home turf. Gandhi who hadn't really made a mark in the public memory shot to infamy when he made anti-Muslim hate speech in Lalori Khera village in Pilibhit. He had used a derogatory slang term for the Muslims and said that he would cut their hands and necks off. At the Election Commission's behest, Gandhi was charged for inciting hatred and creating communal disharmony. He was charged yet again for rioting, damaging public property and attempt to murder due to an incident outside Pilibhit court where he surrendered. It was still a win-win for him as won his seat in 2009 and in 2013 he was exonerated from all these charges.
In 2011, Gandhi got married to Delhi-born fashion designer Yamini Roy Choudary. Roy Choudary is the daughter of former diplomat Sunil Roy and renowned film critic Aruna Vasudev. Sonia Gandhi and her family were conspicuous through their absence despite being invited.
The same year Gandhio extended his support to Anna Hazare's anti-corruption movement and went to the Ramlila Maidan where Hazare holding a protest. He stated that he was there as a common man and as a politician.
In 2013, Gandhi became the youngest general secretary of the BJP. His political ascent continues as he is now contesting from the Sultanpur constituency in Uttar Pradesh. Sultanpur is a part of Gandhi's legacy since his father Sanjay Gandhi had started his political career from Sultanpur in the 1970s. In March 2014, Varun Gandhi during his visit to Sultanpur evoked nostalgic events from his father's campaigning days.
The election heat has affected his campaigning as he has already been engaged in verbal warfare with his rivals. His cousin Priyanka Gandhi in April had said that Varun had 'gone astray' to which the Sultan of Sultanpur-as he is being touted by his campaigning-replied that Priyanka Gandhi had 'crossed the lakshman rekha of decency'.
Aam Aadmi Party's Kumar Vishwas too fired a fresh salvo at Varun Gandhi. He said that without his surname the Pilibhit MP wouldn't even get a Medical Representative's job.
The BJP's election campaign is riding on the 'Modi wave'. But Varun Gandhi has decided to not use it in his campaigning.
Varun Gandhi's Sultanpur campigning wraps up on May 6. The BJP doesn't hae a great record in Sultanpur winning only when the region was swept by the Hindutva storm. Only time would tell if Gandhi would be successful as he tries to claim a part of his father's legacy