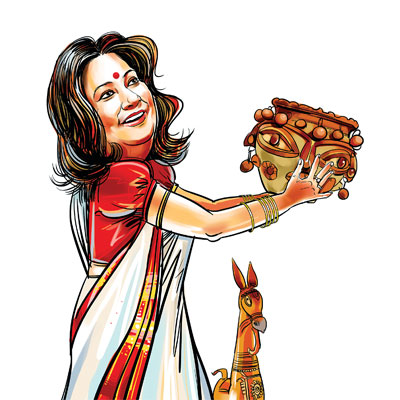 Thirty years ago she sashayed her way into the audience's heart as a sex siren, dazzling them with her oomph. Now, as a Trinamool Congress candidate, actor Moon Moon Sen drew from her experiences of the film industry to fight the Lok Sabha battle, saying there were many similarities between film-shooting and campaigning.
The daughter of late Bengali screen legend Suchitra Sen has upped the glam quotient in the rough-and-tumble of politics, sidelining naysayers who had cast doubts about the 'outsider' battling it out in the Bankura Lok Sabha constituency in the western part of West Bengal that goes to polls May 7.
"There are many similarities between shooting for films and electioneering...because of the crowd, the adulation, eating at various hours and not the proper hours, dirty bathrooms. Being tired at the end of the day, and the weather is incredibly hot. But I have faced this during outdoor shoots...so I can relate to that and know how to tackle it," said Moon Moon.
The display of real name on the EVMs poses another problem for her. The 60-year old's real name is not Moon Moon but Srimati Dev Varman. Therefore, she has spent considerable time explaining the voters, mostly tribals in once Maoist-infested areas, that infact she is Srimati. The graffities too incorporated both names of her.
Moon Moon Sen's celebrity status is restricted to mostly urban areas and she has been out of the tinsel town for too long to ring a bell among the people of this arid region where existential issues take up most of their time. If that's not enough, Sen is pitted against CPI(M) heavy weight Basudeb Acharia, eyeing his tenth win. Acharia in 2009 had beaten Congress' Subrata Mukherjee with a comfortable margin of over one lakh votes. But much has changed since, with Trinamool gaining ground in subsequent assembly and panchayat polls. And that is Sen's biggest strength in this poll.
Mamata Banerjee is being widely credited with bringing peace in the forest areas, called Jangalmahal, encompassing districts of Bankura, Purulia and West Midnapore affected by Maoism. While the Maoists are apparently lying low, lack of development is still a reality.
And to escape that stark reality, people of Bankura are flocking to catch a glimpse of Sen and if they are lucky enough they might even get to see Riya and Raima, her daughters.
Star of films like 'Andar Baahar', '100 Days', 'Ek Din Achanak' and 'Bow Barracks Forever', Moon Moon's roadshows have become crowd-pullers. Efforts of some panchayat officials to sprinkle water over long stretches of village roads in arid areas to keep off the dust when the Sen trio went there for campaigning was ridiculed but at the same time enhanced Moon Moon's celebrity status.
Having acquainted herself for the last month and a half with the locals and their problems, she speaks passionately of reviving indigenous textiles and crafts in the area. "The local artists are leaving the villages...I will come back if we win and spend more time with the local craftsmen. Find out why they are leaving and what are their concerns...help revive crafts. There has to be some kind of way to facilitate export of these exquisite products," she said, admitting her craze for textiles.
— with agency inputs