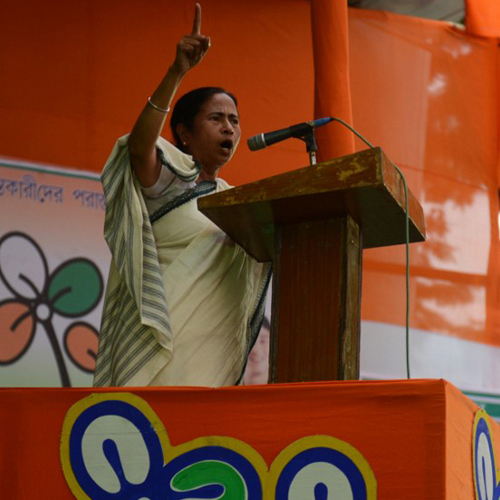 At the entrance of the office of Justice SK Sen Commission of Inquiry in Kolkata, there's a list pasted on the wall mentioning the names who are supposed to depose before it. Debjani Mukherjee and Sudipta Sen top the list followed by seven other names along with the companies they represents.
The names of the companies are Golden Parivar Holding and Developers India, Nilakash Agrofirm Projects India, Tower Infotech, Suryanshi Portfolio Management Services, Bethel Homely Savings Corp and Heaven Infra Projects Ltd.
Only the first two names do not have names of any company to identity them. They needn't. Sudipta and Debjani — the alleged mastermind of Saradha Ponzi scheme and his personal secretary — are household names in Bengal now, behind bars ever after they were arrested from Kashmir a year ago.
Sen, once a chubby nattily dressed but now a frail limping soul having lost half of his body mass, has cast a long shadow on the narrative of campaigning of political parties and may eventually impact the poll outcome in the state where Trinamool Congress dreams of playing the kingmaker post-May 16.
But it wasn't this way till very recently. Saradha scam wasn't an election issue.
Mamata Banerjee or any Trinamool leader was not telling the crowd in rallies that arrest of Sudipta-Debjani and setting up of the Sen Commission were a measure of how efficiently the state police and the administration acted after the scan unfolded. Nor the Left Front said anything besides wondering where did the thousands of crores of rupees raised by Saradha go? BJP, a recent force in the state, was too 'Modified' to raise such local issues.
Things changed once the Enforcement Directorate appeared on the scene arresting Sudipta's first wife Piyali and son Shubhojit on April 16. The arrests were an embarrassment for the state as ED revealed that their requests to the state police to seek information on the absconding duo were repeatedly stonewalled despite knowing that both Piyali and Shubhojit were directors in several Saradha entities and had access to important documents explaining the money trail.
Accentuating Mamata Banerjee's discomfiture, ED has continued questioning Arpita Ghosh, Trinamool Congress' candidate from Balurghat as she was once associated with Saradha's planned satellite news channel.
On the face of it Trinamool government's steps taken on the aftermath of the crisis would have been good enough reasoning against allegations of non-action: arrest of the kingpin, and subsequently of Kunal Ghosh, group head of Saradha's media business consisting of handful of newspapers and channels and setting up of the Sen Commission, which has already started disbursing money to the duped investors.
But then, there's more to the story than meet the eye.
Ghosh's closeness to Trinamool leadership including Mamata, and also with his former employer, Srinjoy Bose, owner of Sangbad Pratidin newspaper and a party MP have been ignored by the Special Investigating Team probing the case.
While Mamata has so far ignored pleas to handover the investigation to CBI, her charges against leaders of previous Left Front government of monetary benefit from Saradha's operations are restricted to highlighting cases of Sen giving advertisements in party's mouthpiece, Ganashakti.
Attempts to clumsily drag in finance minister Chidambaram's wife as a beneficiary has also fallen flat.
That said, would Saradha be Mamata's Achilles' heel this Lok Sabha poll?
While the answer to a large extent would depend upon the course of investigation into the case by ED, Mamata has little to worry if the outcome of the Panchayat poll held shortly after the unfolding of the scam in April 2013 is anything to go by. Trinamool had swept the three-tier panchayat polls capturing 13 out of 17 Zilla Parishads.
"Setting up of the Sen Commission was masterstroke. With the commission accepting applications from thousands of investors and starting to pay some compensation, duped investors are hoping that they might one day get back all the money but only if Mamata Banerjee remains in power," said a political observer.
One of the duped investors Abhjit Bera of Shitalpur village in Ghatal too is optimistic. Bera had invested about Rs30,000 into a Saradha scheme of which he got back Rs10,000 in November. "I had registered my complaint with the commission and the payment, made though two cheques issued by the Ghatal's BDO (block development office) was a pleasant surprise. We hope to get back the balance as well from the commission," he said.
Not everyone is lucky though. Abdulla Khan of village Sundara in Salboni started investing in Saradha with deposit of Rs1,200 before the agent collecting money from him suddenly vanished. "I was promised by the commission's office that a cheque will be issued in October. But nothing happened. Someday I will be paid back for sure."
Hope is what keeping these investors going, and to paraphrase Nicholas Sparks in Notebook, It's the possibility that keeps them going, not the guarantee.