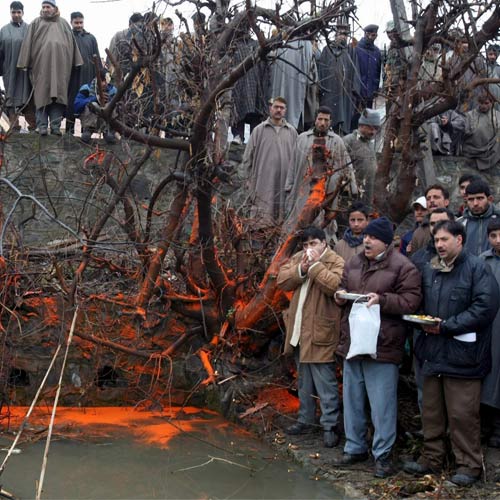 The Narendra Modi-led NDA Government has tried to reach out to the displaced Kashmiri Pandit community with Union Home Minister Rajnath Singh asking officials in his ministry to work on a plan to ensure their safe return to the Kashmir Valley.
Earlier, President Pranab Mukherjee had also spoken about the need for the rehabilitation of the community.
Some reports are also saying that the home ministry might even provide financial assistance to Kashmiri Pandit families to rebuild their homes in the Valley.
Clearly, there seems to be a renewed focus on the displaced community's long standing demand for safe and lasting rehabilitation in the valley. But as demands go, has this one run its course?
Would a new generation, which is not really aware of Kashmir, go back even if they are provided financial incentives to do so?
For Shivang Raina, a 25-year-old Kashmiri, moving back to the Valley is simply not an option.
He says, "Almost two generations have grown up outside Kashmir and they are not so connected to the Valley. Only the older generation feels emotional, for our generation, there is no connection."
Raina also calls the community 'hypocritical' as he feels that it demands rehabilitation in Kashmir, but few will actually move back.
Ridhma Koul, a young married woman, lived in Kashmir for many years before she moved to Delhi to pursue her career as a human resource manager. Although she misses Kashmir's weather and food, she has adapted well to the capital's lifestyle.
Asked if she would move back to her homeland if the government provides a financial package, she emphatically refuses.
She said, "I will not be comfortable about going back to Kashmir because, the culture and the general attitude there don't make me comfortable. Everything is conservative there, from the clothes that are worn, to the culture that is prevalent. Moreover, safety is still a major concern for us."
While the younger generation has adapted to the culture and lifestyle outside Delhi, the older generation which had to flee their homeland still reminisces about their lost home.
A displaced Kashmiri Pandit, KL Mahaldar, lives in Ludhiana with his wife and son. His son has a career in banking and his daughter-in-law is a lecturer.
Mahaldar says that he could think of moving back if an assurance of safety is provided by the government, but he knows his son won't.
"If they provide us security of life and livelihood, maybe in a separate area at first, then I could go back to the valley. They should first rehabilitate us in separate areas which provide us enough security and engage all the stakeholders. The older generation will definitely want to go back as we are more connected to our homeland."
But Ankush Bhan, a resident of Jammu, says the community should be wary of ghettoizing itself as their eventual aim should be to integrate themselves in the mainstream.
"I know that Kashmiri Pandits would feel safer if they are provided specific areas to reside under the constant vigil of security forces. But, the aim of the community should be to re-integrate itself in the mainstream, and not create a separate island for themselves."