Locals, activists voice concern as Uma Bharti's ministry moves proposal for green clearance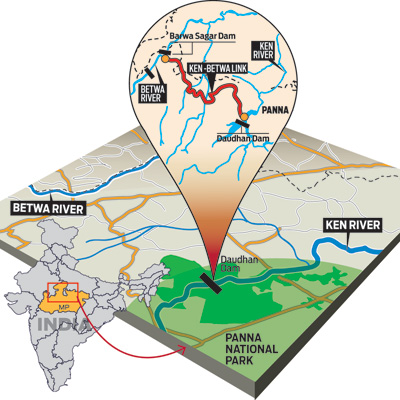 Even as Narendra Modi led NDA government moves ahead full steam on its ambitious river-interlinking projects — unfinished business from the earlier, Vajpayee-led NDA government — its very first project, the Ken-Betwa link in Madhya Pradesh may run into rough waters. Sources in the know and experts say that the Rs 9,400-crore project threatens to submerge over 4,100 hectare of forest land of (around eight percent) the Panna National Park, and thus it may not be easy for it secure necessary clearances.
The idea to link India's numerous rivers germinated during the first NDA government in 2002. Then prime minister Atal Bihari Vajpayee wanted to connect rivers to transfer water from surplus areas to water deficit areas. The National Water Development Agency (NWDA) had identified 30 links — including the Ganga and the Brahmaputra — to address India's water scarcity problem. However, the plan failed to take off under the 10-year UPA rule. With the BJP-led NDA government coming back to power at the Centre, the plan has now got a new thrust.
Prime Minister Modi's cabinet recently cleared the Ken-Betwa project to kick-off the river interlinking scheme. On August 7, Uma Bharti's union water resources ministry, to which the NWDA reports, moved a proposal to the union ministry of environment and forests (MoEF) to seek forest clearance for the project. The clearance is required since the project envisages diversion of at least 4,141 hectares of the national park for a 100-year period.
Both, Bharti and Madhya Pradesh chief minister Shivraj Singh Chouhan, want to see quick progress on the project. While Bharti has said that her ministry aims to complete all major river links in the next 10 years, Chouhan has said that Ken-Betwa linking is a top priority project.
To link the two rivers, the ministry has proposed building a dam on the Ken river near Daudhan village in Chhatarpur district of Madhya Pradesh. The dam will allow the diversion of nearly 1,074 million cubic meters of surplus water to the Betwa river basin annually. Doing so will mean irrigation for 6.36 lakh hectare, 60MW power generation and drinking water for several villages and towns through the interlinking canals.
The project has a land requirement of 9,000 hectares, of which at least 5,258 hectares is forest land. Of the 5,258 hectares, 4,141 hectares is required from the 54,000-hectare Panna National Park.
In addition to the forest clearance, the project will therefore require wildlife clearance from the National Board for the Wildlife (NBWL) and environment clearance. It will also need to get the Supreme Court's permission since it involves diversion of land within a protected area of the tiger reserve. Part of the proposed project also includes land under 'scheduled area', getting clearances for which can be difficult (please delete this part). Currently though, the water resources ministry has not initiated seeking any of these clearances.
"It (getting all the clearances) is very difficult, and until all stakeholders sit across the table, this proposal may not go through," said a source in the environment ministry on condition of anonymity. "This project, if it goes through at all, will submerge a big part of the Panna tiger reserve, and for that the clearances would be difficult. There is also the possibility of litigation and other protests."
Another source in the ministry said: "It is not that the river interlinking will submerge the entire tiger reserve. But there will be a higher impact during monsoons when the rivers flood."
Environmentalists and wildlife experts are already opposing the project. "It is not hydrologically viable as the Ken River does not have surplus water. The exercise of showing data that it has extra water is a manipulated one and is doctored," noted environmentalist and water expert Himanshu Thakkar, who was part of a committee on river interlinking under the water resources ministry, told dna. "Not only will it submerge Panna's tiger reserve area, it will also threaten the aquatic life in Ken river," he added.
Ken-Betwa interlinking project
Total land required: 9,000 hectare
Total forest land: 5,258 hectare; of this 4,141 hectare is proposed to be from Panna National Park
Project cost: Rs 9,400 crore
Displaced persons: 806 families
Expected project employment generation: 5,000 people
Irrigation: 6.36 lakh hectares
Power generation: 60MW
About Panna National Park
Located on either sides of the Ken river in north Madhya Pradesh, an area of 54,000 hectares was chalked out for Panna National Park in 1981. It was declared a tiger reserve in 1994. The park and its surrounding territorial forest area of North and South Panna divisions is the only large chunk of wildlife habitat remaining in north Madhya Pradesh.
Former environment minister Jairam Ramesh had vehemently opposed the Ken-Betwa River linking project.