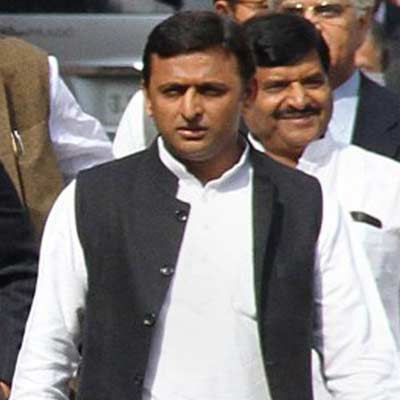 Amid rising incidents of rape and murder in Uttar Pradesh, talks of bifurcation of the state are again doing the rounds. Speculations are rife that Modi led government with clear majority in the Lok Sabha is likely to go ahead with an old demand of dividing the state. But the moot question is that will the split improve states' prevailing law and order situation?
Although, experts are divided on the issue of law and order yet they are united on the fact that it (split) will improve the administration in the state.
Prakash Singh, former Director General of Police (DGP), Uttar Pradesh supported the splitting of the state into two parts and hoped it will help in improving policing in the state. He said, "It is likely that split will improve states' crime index. Bifurcation will give rise to a new ray of hope for a better administration and governance."
The recent Badaun rape case again brought the focus back on splitting the state. The grim situation also pointed towards inadequate police force in the state. Despite being the most populous state, Uttar Pradesh is languishing with inadequate police force, according to the latest data by Bureau of Police Research and Development (BPR&D) that comes under the home ministry. In India while 733 people are looked after by one constable, in UP the figure stand at 1234 people. As per the data, in UP, a constable is available in every 1.43 sq. kms as against the sanctioned strength of 0.65 sq. kms.
Singh found politicisation of state police as one important factor in increasing crime rate. "To an extent, police are responsible for increase in crime in UP. A special community has been getting space in the police department with the help of politicians who later serve them." Singh added.
However, Prof. Ranbir Singh, member of Sri Krishna Committee on Telangana constituted in 2010 believes that governance is more important than size of the state. He argued, "I don't think, bifurcation will solve UP's prevailing law and order situation. It doesn't matter whether a state is small or big, what matters is governance." He indicated that there are many small states which stand poor on the crime index.
The bifurcation of UP, is not BJP's brainchild as it an old demand. Before 2011 assembly polls, the then CM Mayawati proposed splitting of the state into four parts: Avadh, Purvanchal, Bundelkhand and Harit Pradesh. At that time BJP and Congress had also supported the proposal.
However, now BJP seems to be having objections regarding Harit Pradesh proposal. As per news reports Amit Shah wants Avadh and Harit Pradesh regions to be combined. The Article 3 of constitution empowers the Parliament to enact a legislation to create a new state or divide an existing one. In 2000, NDA government under Atal Bihari Vajpayee carved out Uttarakhand from UP, Jharkhand from Bihar and Chhattisgarh from Madhya Pradesh.
With the formation of Telangana this week, India now has 29 states. Furthermore, according to news reports, home ministry has already received the recommendation of 20 new states. Apart from UP, demand for separate states includes Braj Pradesh comprising Rajasthan's Bharatpur district, Gwalior district of Madhya Pradesh and two districts in UP, Aligarh and Agra, Bhojpur state comprising areas of UP, Bihar and Chhattisgarh. In Maharashtra, there is an old demand for creation of Vidharbha state. Demand for Gorkhaland in West Bengal and Bodoland in Assam have also been pending with the centre. But, will BJP bow to people's demand in those states, that's the million dollar question?