Yoga guru's distasteful remarks may undo the electoral gains the BJP would have reaped with Modi's OBC background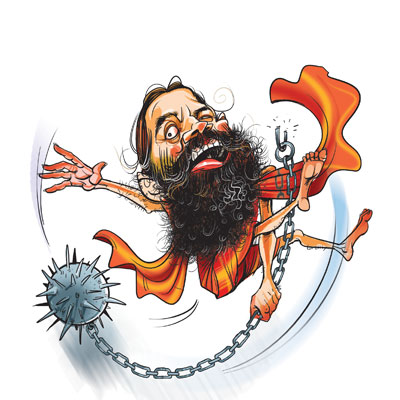 At yoga guru Baba Ramdev's Patanjali Yogpeeth in Haridwar, it is business as usual. Even as the Baba has gone into overdrive to make sure the Bharatiya Janata Party (BJP) comes into power with Narendra Modi as prime minister, the plush ashram on the Delhi-Haridwar highway bares no sign of any kind of canvassing for votes.
Ramdev himself has pledged that he would not enter the precincts of the ashram till he fulfills his aim to defeat the Congress party and, presumably, place BJP at the Centre.
But the yoga guru may have to eat his words since his recent remarks on Congress heir apparent Rahul Gandhi's visits to Dalit households in Uttar Pradesh may cost the BJP dearly in the penultimate phase of the Lok Sabha elections.
In his home turf Haridwar, at least, Baba's motor mouth has ensured that scales tip in favour of the Congress. "Dalits are very angry with his statement and have decided to vote en mass against the BJP. What kind of a so-called guru would say such a thing about our girls," says Rakhi Nautiyal, a lawyer and activist, adding that Dalit women will be staging a protest against the Baba outside his ashram today to make sure he gets arrested.
At public speech a week ago, Ramdev had stated that Gandhi goes to Dalits' houses for "honeymoon and picnic". An FIR has been filed against Ramdev in Uttarakhand by Congress State Secretary TC Bharti and the party has been quick in leveraging Ramdev's distasteful statement. Congress candidate from Haridwar Renuka Rawat says Ramdev's downfall has begun and it is unlikely for any dalit to vote for the BJP here.
"They will vote for us, Ramdev's remarks will severely affect BJP's chances," she says. Dalits constitute about 23% of the total population in the hill state and the Dalit population in Haridwar is about 2.5 lakh.
Ramdev's statement it seems has undone the electoral gains the BJP would have hoped to reap with Modi's OBC background. Since the Bahujan Samajwadi Party has very little presence in the state, Congress has been the traditional recipient of the Dalit votes in the state and it will most likely remain so.
What would be interesting to see is if Ramdev's statement will have a ripple effect on BJP's chances in UP, with about 21% dalit population, where the BSP is trying hard to make it an election issue.