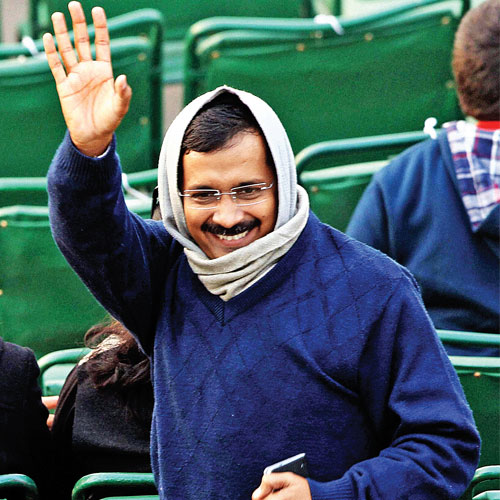 Arvind Kejriwal's government will face first major test next month when he proposes to get Janlokpal Bill pass in the legislature.
The draft Delhi Lokayukta Bill 2014 proposes to bring Delhi Development Authority (DDA) and Delhi Police under the ambit. But neither Delhi Police nor DDA comes under the Delhi government. They report to Delhi's Lt Governor.
As per the law, the bill is expected to go to the Lt Governor who will send it to the Union home ministry for clearance but the fear in AAP is that it would be stuck at the home ministry level. As the whole AAP campaign was built around anti-corruption plank and bringing of Janlokpal Bill, this confrontation with home ministry may result in another round of street fight. The new confrontation may also put in danger their rocky relationship with Congress on whose outside support AAP was able to form government in Delhi.
Arvind Kejriwal in December 2013 before taking oath as the chief minister had termed this rule "wrong" which stipulates that Delhi government will have to get clearance from central government before introducing any new law. Sources in the Delhi government told dna that serious efforts are being made to find a way around this contentious rule of Delhi government sending a bill to home ministry for clearance before its introduction in the Delhi Legislative Assembly.
The contentious points under Kejriwal's Lokpal Bill, which is likely to be called Delhi Lokayukta Bill 2014, are bringing of Delhi Development Authority (DDA) and Delhi Police under the ambit of the proposed anti-graft body.
AAP's draft of the Janlokpal bill is ready and is expected to be passed by the Delhi Cabinet within this week after which it has to go to the Union home ministry. "But that is where confrontation may happen as this bill contains provisions like bringing of Delhi Police and DDA under the Delhi Lokayukta Act. This may again give way to fresh round of charges and counter changes between AAP and Congress," said sources in Delhi government.
AAP is pinning hopes on Janlokpal Bill as its trump card to make up for the all the damage it suffered due to law minister Somnath Bharti's midnight raid and Kejriwal's dharna. Thus it would be nearly impossible for AAP to climb down from their difficult bill and make changes.
This confrontation may further affect its rocky relationship with Congress on whose outside support AAP government is surviving in the assembly. "This is where there could be a real fight between Congress and AAP," the sources added.
The confrontation if turned ugly may even result in Congress withdrawing the support as AAP leaders have already cleared that they would not make any compromise on Janlokpal bill. Thus another showdown with Congress led UPA government is definitely on the cards.
Recently Kejriwal had sat on dharna demanding suspension of three Delhi police officers for alleged dereliction of duty. He had, however, settled for two of them being sent on leave for ending dharna.