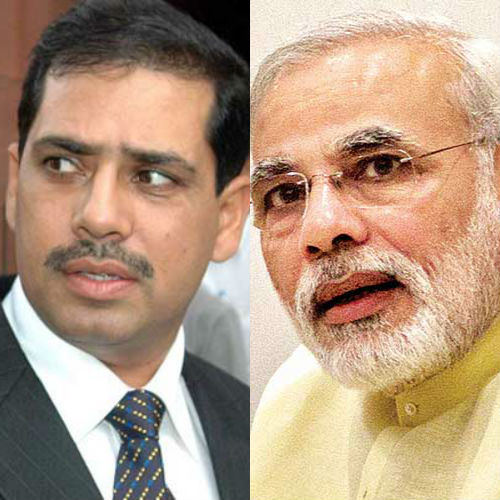 After Narendra Modi's 'Gujarat model of development' faced flak and generated debate, it's time for Robert Vadra and his meteoric rise to power to be investigated.
After WSJ's report dissected Vadra's stupendous success by demarcating his land acquisition strategy and abuse of power with apparent usage of political connections, BJP leader Arun Jaitley took to his blog and congratulated Vadra for starting his own niche—Vadra model of development.
Jaitley stated, "Congratulations to Mr.Robert Vadra. He has made it to the Wall Street Journal. The Vadra business model requires the research paper to be prepared by a key business analyst."
So, here's a look at why Modi and Vadra model rival each other:
Number gamble:
Narendra Modi's development model drew ire for putting out numbers that were incosistent and some experts claimed that other states such as Tamil Nadu and Maharashtra had done way better in terms of human index development.
Read: Has Robert Vadra utilised his Gandhi liaison to build up a real-estate empire?
In an exclusive column in the dna, Maitreesh Ghatak and Sanchari Roy wrote, "Both Tamil Nadu and Maharashtra have done better in terms of GDP."
According to them, other states such as Maharashtra and Haryana have been going neck and neck at the top of the growth rate rankings over the last three decades but no one is talking about the Maharashtra model or the Haryana model of development.
According to WSJ, Robert Vadra, the son-in-law of Congress President Sonia Gandhi has been the focus of a number of real estate-related controversies.
As per their report, Vadra had real estate wealth worth Rs 252 crore in 2012 and had sold a property worth Rs 72 crore mounting his total property wealth to Rs 324 crore in the same year.
The art of marketing: While Modi's, 'Gujarat model of development' is being used as an anchor to promote his prime ministerial candidature, Vadra has been trying to hide his success model from publicity due to his linkage to Congress.
His meteoric rise in a span of six years has caught Economic offences wing and media's eye. The only reason that he has maintained an upper hand from investigations can be credited to his good political connections.
Read: Lok Sabha elections: What does Narendra Modi's Gujarat development model really mean for India?
The power of multiplication:
The report by WSJ says that Priyanka Gandhi's husband Robert Vadra had started buying properties from 2009 and the value of it rose 6 times going up to Rs 300 crore.
It also adds that 44-year-old Vadra has only pursued education till high school but despite it and no experience in property development amassed a large real-estate portfolio.
Meanwhile, Narendra Modi's political gains have grown manifold after his Gujarat CM tenure. Modi ruled the state for 12 years before vying for the top job as Prime Minister of India.
Even Modi started working at a young age at a tea stall before going for politics. He even left his wife Jashodaben to pursue his political career.
Aide to the rescue:
Robert Vadra's aide Mahesh Nagar Nagar's name appears on land office documents as the facilitator for land deals for India's politically powerful Gandhi family.
Over four years, from 2009 to 2012, Nagar bought and sold tracts of land in Rajasthan on behalf of Vadra.
The report adds that Mahesh Nagar also bought land for Vadra's brother-in-law and Sonia's son Rahul Gandhi in Haryana in 2008. He keeps a low profile and people do not know a lot about him. He told WSJ that he has never met the Gandhi family ever but has performed land dealings for them.
Narendra Modi's closest aide is Amit Shah and both had joined the Rashtriya Swayamsevak Sangh (RSS), the voluntary right-wing group that serves as the ideological incubator for Hindu nationalism and as the philosophical parent of the BJP.
Now, Amit Shah is the man assigned to deliver Uttar Pradesh for Narendra Modi in Lok Sabha elections.
Meanwhile, BJP leader Arun Patnaik blogged about Robert Vadra's success story with sarcasm and took some jibes. Below is a portion of the same.
TEXT of Arun Jaitley's blog:
Congratulations to Mr.Robert Vadra.
He has made it to the Wall Street Journal. The Vadra business model requires the research paper to be prepared by a key business analyst.
Start a business without any investment. Investment will flow as loans and advances which is a synonym for political equity. Use these loans to buy property at fraction of the market cost. Many people are willing to sell property for an inadequate consideration, accumulate a land and a property bank with the patronage of the state. Sell off some properties and repay back the original loan.
The rest is all yours with no liabilities. So far this business model has raised only eyebrows. It is time it raises serious questions. That is what the Wall Street Journal has done.