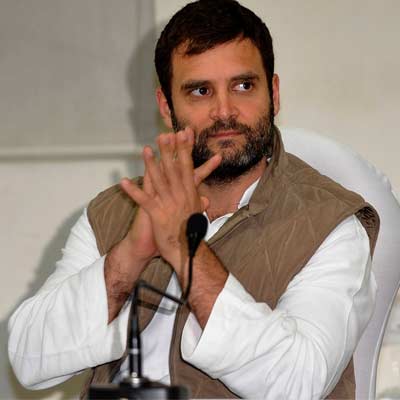 Congress leader Rahul Gandhi called the Railway budget "disappointing" and "one that lacks vision". He said that most of the big states like West Bengal, Kerala were left out. A number of Congress MPs also joined the line in criticising the government like Jyotiraditya Scindia said, "It is just a FDI and PPP (public private partnership) budget." Former Railway minister, Pawan Kumar Bansal said that the government had not come up with any new idea and, "They seem to be accusing the previous government of wasting revenue."
The Congress is struggling to attain the position of the leader of opposition (LoP) in the Lok Sabha even though it does not have a majority to do so. The Congress has 44 seats in the Lok Sabha which is not even 10% of the total House strength. The spoke in the wheel is that even if Congress tries to block BJP's policies but without a majority, their opposition would amount to nothing except that passing any major proposal in Rajya Sabha would need their consent as well as BJP's who has no majority in the upper house.
Sonia Gandhi has been fiercely fighting for the post and even held a meeting with party MPs of the Lok Sabha. Earlier, she even wrote to Lok Sabha speaker Sumitra Mahajan seeking immediate response on the issue.
While the Congress is mum about whom they would appoint as the leader of opposition, Rahul Gandhi seems to criticise the present government without placing any facts, even his comment about the rail budget being visionless is ambiguous. While senior Congress leaders wanted to project Rahul Gandhi as the leader of Opposition, he abstained from the role and kept himself at arms distance from ground political scenario.
7 Must Reads on #RailwayBudget: Sadananda Gowda's proposes FDI in Railways, Sensex falls 600 points and more
At the maiden Budget speech, which many termed as the first litmus test for the Modi government, Sadananda Gowda came across as someone who is ready to embark on a much-needed overhaul of the Indian Railways towards modernity. And the biggest proof of this is the sense that he is finally ready to see the Railways as not just an infrastructure issue but also a service industry. We had suggested that the Railways needed a change not just in physical capital, but also in social capital to turn it around, which is something the government seems to be taking note of as well. Read more
Sadananda Gowda's proposal to introduce FDI in Railways sparks debate; criticised for changing stance
Admitting that all the grand plans and proposals by the Budget needed more resources than what is already at the disposal of the Indian Railways, he suggested considering alternate means. The Golden Quadrilateral Network would require Rs 9 lakh crore to complete while Rs 60,000 crore would be needed for introducing one bullet train alone, Gowda informed. "Can I depend only on hiking fare and freight rates and burden the public to realise these funds? This is unrealistic. I need to explore the alternate means of resource mobilisation," he said. Read more