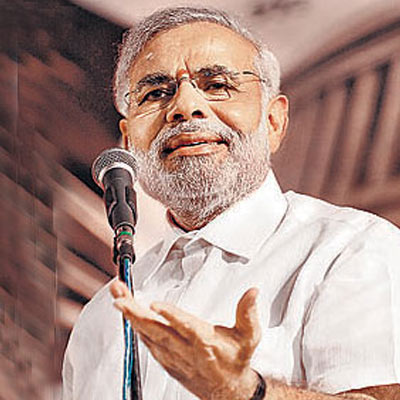 If reports are to be believed, Narendra Modi government is likely to continue with United Progressive Alliance (UPA)'s policy on multi-brand retail. It will be quite a u-turn from the Bharatiya Janata Party (BJP)'s strong stance pre-election when it vociferously objected against government's decision to open up the market for multi-brand retail.
This move if implemented is likely to be opposed by Rashtriya Swayamsevak Sangh (RSS) and its umbrella organisation. It is unlikely to go down well with the small traders community considered to be a loyal votebank for the party.
Yet Modi government is looking to take this decision fraught with political repercussions based on the current economic condition of the country. The government is in a sticky wicket and it has only limited leverage to slash subsidies without inviting the wrath of the common man. So it is looking to encourage Foreign Direct Investments (FDI) to take care of the mounting deficits.
The excuse given will be that continuity should be maintained in broad policy decisions so that no negative signals are given to the foreign countries. But in reality, this likely decision will be the first time Modi will be encashing the majority he enjoys to get his writ over Sangh and other members of his party who may well be ideologically against FDI.
One suspects that the largely muted response to the Budget from the industry has also played a crucial role in rethinking of this stance.
Although virtually no industrialist publicly aired their disappointment over the budget and showered their platitude but Dalal Street finished on red that day and continued its free fall for two more days.
The analysts found the budget short of promises and political bravado. Increasing caps on FDI in insurance and defence also received tepid response.
Thus the need of the hour was to give a clear indication of government's intention to the industry. By continuing with UPA's policy on FDI retail, Modi probably wants to give the message that he is willing to breach the Lakshman Rekha and go the extra mile to reach out to the industry particularly the foreign investors.
It will be interesting to see if BJP ruled states do actually go on to implement this policy and open their doors to multi brand retails to do business. All eyes will be on Vasundhara Raje who promptly scrapped Gehlot government's policy to invite multi brand retail after coming to power in Rajasthan. If Raje now decides to change her decision again it will be the clearest indication that other BJP ruled states will also follow suit.
Modi even during his stint as Chief Minister of Gujarat frequently went against the wishes of Sangh Parivar for the sake of governance. His slogan of "Pehle shauchalya, phir devalaya" didn't go down well with the Vishwa HIndu Parishad (VHP). But he stuck to his guns. So it will be not entirely out of character for him to go ahead with a decision if he believes he can accrue leverage from it, even if it is contrary to the party line. In the run up to the elections he sort of alluded that he is not entirely rigid in his stance in the retail FDI issue. But BJP officially has continued to oppose FDI in retail.
Modi is currently ​trying to tread the fine line between populism and reform, party and the market. He has the numbers on his side and his trusted aide as the party President to quell any dissent. Whether his decision will actually lead to rejuvenation of economy though remains a question.