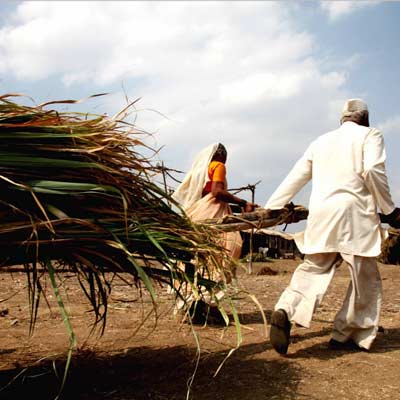 Nashik: Windy weather, increasing humidity, rising temperature and delayed rains has resulted in failure of the vegetable crop in the farms. The supply to the Agriculture Produce Market Committee (APMC) wholesale markets is thus affected leading to rise in the prices. The supply is likely to improve within next 15 to 30 days, provided winds blow normally and rains show their mercy.
The vegetables produced in Nashik region are supplied to markets in Mumbai and vegetables like bottle gourds are also exported to Bangladesh and Pakistan. The farmers bring their vegetables to the APMC market in Nashik where it is auctioned. While the auction of leafy vegetables is conducted in the evening, that of fruity vegetables like cabbage, cauliflower, different types of gourds, tomatoes is held in the afternoon. Other vegetables like brinjals, french beans, other beans are auctioned in the morning.
"Strong winds blow away the creeper plants. They do not hold ground and hence the flowers fall. With the failed flowering stage the plants do not bear fruits. This has resulted in low produce of vegetables like gourds, beans, tomatoes. Whereas fruity vegetables are affected as their saplings were damaged during the unseasonal rains and hail storm. With no saplings to plant, there is no crop. The increasing humidity, delayed rains also affect the crop which is at a filling and harvesting stage", explains Suresh Bhor, a farmer from Chandori.
Leafy vegetables have a life cycle of one to one and a half months, Cabbage cycle is for 3 months including the 21 days of making of the saplings and 60 days of filling of the cabbage bulbs. Those farmers who took the sowed saplings in the farms about a month and half earlier were hit by unseasonal rains and hence they lost their saplings. Those who took them in poly houses or green houses could save the saplings but these saplings cost a little higher. All this is resulting in the present hike of vegetables in the retail and local markets.
"We are facing a tough time keeping the vegetable crop alive through the vagaries of nature. The winds blow away the flowers and fruits, plants collapse, there is no water to fill the bulbs of cabbage or cauliflower or the fruits of different types of gourds. I had planted tomatoes but with no water I had to pluck out the crop off the field. Now it is only waiting for rains", states Ranjit Gunjal, a farmer from Lasalgaon.
Prices depend on the demand – supply equation. "The supply of different vegetables in the whole sale markets is less and the prices are more. Traders have to pay more for the less supply that's available and then add the other charges for packaging, transport and commission", stated Chandrakant Nikam, an agent from APMC, Nashik market.
Prices in APMC, nashik market on average as follows
Fenugreek leaves – Rs 50 / bunch
Spinach bunch – Rs 5 – 10 / bunch (This is generally available through out the year)
Corriander – Rs 60 / bunch
Cabbage – Rs 25-40 / kg (Rs 8000 – 9000 / pick up which is around 5 - 7 quintals)
Cauliflower – Rs 20-25 / Kg ( Rs 5000 – 7000 / pick up which is around 5 - 7 quintals)
Bottle gourd – Rs 200 per crate which is about 18 pieces per crate
Bringal – Rs 600 / crate which is about 16 - 17 kgs