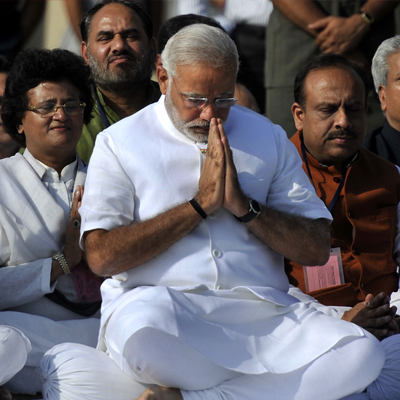 Prime Minister Narendra Modi's complain that he didn't had the luxury of a 'honeymoon' period, owes much to his own punishing work schedules, craving for concentration of powers to the extent of choosing the personal staff and overlooking expenditures incurred by his ministers, administrative reforms and attending to other minutest details of governance.
Senior bureaucrats say, they start getting calls from the Prime Minister himself early morning, inquiring progress of a particular commitment made only late last night meeting. Though, he has enthused a kind of confidence within bureaucracy returning to them leverage and powers, his literally sitting on their heads to perform has also created a fear psychosis. On March 26 evening, when he left Rashtrapati Bhawan after taking oath and entered into his South Block office to take charge, his first order was to bar ministers from handpicking personal staff, showing his intent to ensure none of his colleagues fancies a "hidden agenda".
Soon after election results started pouring in giving a big lead to the NDA, those close to the Modi said he had made up his mind. "The big mandate also meant mountains of expectations. That is what Modi told RSS as well as BJP leaders, when he asked them to give him free hand to come to people's expectations by reining in inflation and chiselling structures of governance," said an aide. He further said that over past 30 days, Modi must have presided over more than 60 meetings, be that with his ministers, secretaries, and service chiefs etc, almost an announcement a day.
Officials who were used to discussing overall policy matters in broader sense with the Manmohan Singh are still to adjust to the minutest details Modi asks for. Since Singh was himself from the bureaucracy, he knew the pace and route of files. They say, the only other person, they could compare Modi with could be the former finance minister P. Chidambaram, who like him had a photographic memory and also attending to minutest details.
Buzz in corridors of powers is that before Singh had removed the environment minister Jayanti Natrajan, who was sitting on clearances and refused to approve projects, her secretary had attempted to sought a meeting with the PM. He, however, could not get an audience. Then he had to cajole a close aide of Singh, to convey message to the PM that all is not well in the environment ministry. But the same bureaucrat, who narrated the incident now says, the new PM just a phone call away from him.
The ministries were asked to tackle all contentious issues on their own. The various officials in the ministries were presumably being asked to play a more active role in advising their political bosses while finding solutions to problems. They were also told that in case they faced "difficulties" in ironing out procedural kinks, the Cabinet Secretariat and the Prime Minister's Office would facilitate the final decisions. But these interactions and sorting out difficulties is keeping PM over scheduled A senior official says Modi appears passionate about governance and wants to make a difference to the way administration is handled. "If one has direct access to the head of the government, then radical changes will come easily," says a secretary.
But there are many, who are sceptical of Modi's direct access with bureaucracy. They recall late prime minister Rajiv Gandhi meeting 600 district collectors and bypassing his ministers in various decisions. Despite these apprehensions, officials here say unlike the previous regime, there is no one pulling the decisions in different directions.
Another thing that robbed Modi of his honeymoon is overprotecting his council of ministers from any taint and scandal. Not only he barred them handpicking personal staff, a latest order has restricted purchasing power to ministers for their office to just Rs 1 lakh. For any amount above Rs. 1 lakh, they are required to seek the Prime Minister office (PMO) approval. The order also directed the ministers to refrain from buying new cars for themselves in what the PMO officials describe at Modi's way of empathising with the general public reeling under the severe price hike. They said the PM is making all moves ahead of the budget to bring the derailed economy back on track.
Under the Director General of Supplies and Disposal (DGS&D) manual, even a junior babu in the rank of the assistant director has powers to approve the ad hoc purchase up to Rs 1 crore, but the minister will now have to run to the PMO even to spend more than Rs 1 lakh. It's another matter that the same minister may sign projects involving expenditure running into hundreds and thousands of crores.
Among other administrative reforms engineered by Modi is compressing the time-frame for completion of inter-ministerial consultations for preparation of cabinet notes. He has now asked the ministries to complete this process in two week's time and sent the note to the cabinet secretariat by Thursday, so it can be included in the cabinet meeting taking place every Wednesday.
The PM claimed in his blog that a "series of allegations began in less than 100 hours" after his government took offices. Some of these were over issues with which the government had nothing to do, but still the controversies persisted, he said. Though the PM did not specifically mention any controversies, but many of them were making of his own government, like his junior minister Dr. Jitindra Singh's statement of abrogation of Article 370 or the latest row on former solicitor general Gopal Subramanium, who had to withdraw his candidate for supreme court judge.
Meanwhile, the Congress on Friday said Modi's statement on honey moon reflected his pessimism and tendency to criticise all institutions instead of ensuring course correction. Party spokesperson R. S. Surjiwala said perhaps centralization of power, where even his senior most colleague home minister Rajnath Singh has no powers to appoint his personal staff may be leading to internal dissentions and thus reason of Modi's pessimism.(