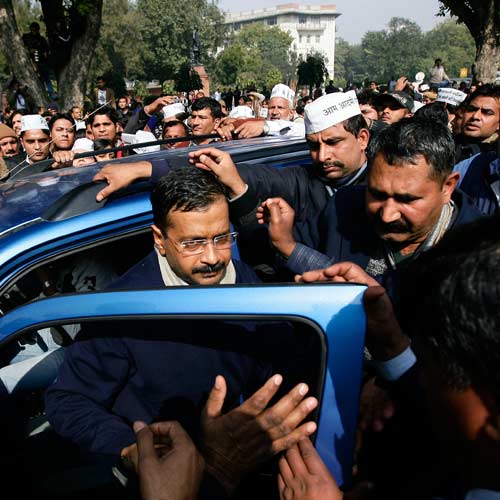 After the recent Lok sabha debacle and with its many leaders deserting the party, Aam Aadmi Party (AAP) is trying to cover lost ground by targeting their home-turf—Delhi. While Arvind Kejriwal tried fielding leaders all over India against BJP and Congress, only some managed to woo the voters and win. Hence, AAP's move to Supreme Court to hear plea against imposition of President's Rule in Delhi is no surprise measure.
Taking the issue further, Supreme Court has addressed the petition to constitution bench for referral post which a decision will be taken. This may turn out in two directions: Either the Presidential rule can be dissolved and fresh elections will be called in on AAP's demands; or AAP's demands can be ignored on grounds that they left the capital midway without governance in February.
In order to ensure that its pleas were heard, Arvind Kejriwal even met President Pranab Mukherjee on Thursday and sought a review of the situation. Whether Pranab Mukherjee reviews the situation and revokes Presidential rule in capital city is yet to be seen.
For AAP, this appears to be the last chance to get a position of power or authority after BJP has taken the mainstream center of power while Congress has settled for a weakened opposition's role without much impact.
"The BJP has been trying to lure our MLAs by offering money and posts for last few days. A leader of the Shiromani Akali Dal and a person identifying himself as a Supreme Court lawyer and an active BJP member have been instrumental in this. These people have been contacting AAP MLAs but to no avail. All the MLAs reported the matter to party's central leadership," AAP's resolution had said.
Prior to this, AAP had even alleged that BJP was luring its MLAs and had demanded fresh Assembly elections in Delhi.
Why Delhi?
While AAP was budding as a political outfit on the lines of anti-corruption crusading, It was Delhiites who had given the party the much needed break into mainstream politics. Arvind Kejriwal had managed to change AAP's fortune and helm affairs at Delhi as the chief minister by defeating Sheila Dikshit who had handled the post on various terms.
The current situation
A bench headed by Chief Justice RM Lodha was requested by senior counsel Fali Nariman, appearing for AAP, to keep the matter for hearing in first week of July as the LG had informed that he will deal with the issue after May 16. The bench, however, had clarified that it was not passing any direction in any manner in this regard and it was for the President to decide on the basis of the facts and circumstances.
Backdrop:
Also, the Supreme Court on Friday had referred a petition filed by Aam Aadmi Party against imposition of President's Rule in Delhi to a Constitutional bench. The SC's decision came a day after former Delhi chief minister Arvind Kejriwal accompanied by AAP legislators met President Pranab Mukherjee to demand immediate dissolution of the Assembly and fresh elections in Delhi.
The apex court had on May 5 posted for July 4 the hearing on the petition after it was informed that Lieutenant Governor Najeeb Jung had decided to deal with the matter after the conclusion of Lok Sabha polls.
Advocate Prashant Bhushan, an AAP leader, had also made the same request and said nobody is coming forward to claim for formation of government. He had also submitted that elections are being held and the results may change the ground reality since the last assembly elections.
The apex court had earlier said that there was no legal impediment for the President to dissolve the Delhi Assembly to pave the way for fresh election in the state. Delhi has been under President's Rule since February 17 after Kejriwal resigned as chief minister over the stalling of the Jan Lokpal bill in the Assembly.