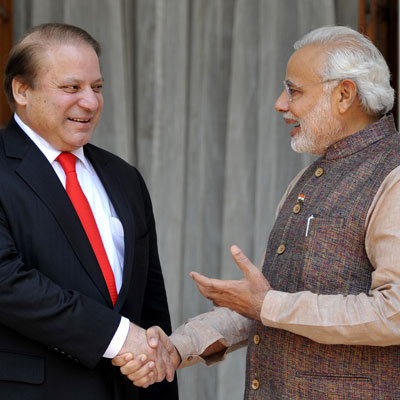 Prime Minister Narendra Modi's swearing in ceremony was made into a spectacle after he decided to invite all the members of South Asian Association for Regional Cooperation (SAARC), and even Mauritius which is not a member. This was an unexpected move by Modi, however, it made sure that his swearing in as the new leader of the country got the big symbolic boost.
How Modi and his team factored in the invitation to Pakistan remains unknown. As part of SAARC, an invite to Pakistan would have gone by default if the group was being invited. While all SAARC nations agreed to Modi's invite fairly quickly, Islamabad expectedly took a long time to reciprocate even though Sharif dropped hints that he would be willing to come.
For Sharif, this was as much as about him grabbing an opportunity to attempt and pull India – Pak dialogue out of the deep freeze as consolidating his own position in Islamabad. By visiting New Delhi, Sharif would have emboldened his own government's stand against the Pakistan Army and its notorious intelligence agency, the Inter-Services Intelligence or the ISI. The thin line between the civilian leadership and the military was emboldened just a little more due to Sharif's visit, and this works in his favour in domestic politics of Pakistan. Even while Sharif was in Delhi, reports of infiltration from the Pakistan side in Kashmir and people such as Hafeez Saeed, a man blamed as one of the masterminds of the 26/11 attacks openly criticising India in Pakistan's media, were being aired. Hours before Sharif was to arrive, the Indian consulate in Herat, Afghanistan, was also attacked allegedly by Pakistan based Lashkar-e-Toiba. All these events, highlight the security implications for all SAARC members.
However, thinking the now famous Modi – Sharif handshake will give birth to a timeline for a dialogue process would be premature. Nonetheless, it sets the ground for further diplomatic exchanges which could prepare a ground for a fruitful and result oriented dialogue process. During the Modi – Sharif bilateral at Hyderabad House today, the Indian Prime Minister let his counterpart know that without a fast track 26/11 probe and curbs on cross-border terrorism, concrete positive steps could be difficult to achieve. Sharif at the end of it all invited Modi to visit Pakistan, who as per reports accepted the same.
Prior to this, the now former Prime Minister Manmohan Singh had also tried to visit Pakistan. However, thanks to internal party politics of the Congress and compulsions of a coalition government structure, he was unable to. Singh did start processes to engage more with Pakistan's democratic sector, or 'peace constituencies,' as some called it. The idea of exporting electricity and natural gas to Pakistan which is struggling more than ever in providing electricity to its people, a topic which Sharif used heavily during his own campaign, was possibly ahead of its time when it took shape under Singh's watch. Today, private groups such as Adani are also now looking for opportunities to export power across the border. Right now, one can see Modi extending some of the basics of India – Pakistan dynamic which were initially designed by Singh and a section of his advisors.
The other good thing to come out of this meet is in the domestic discourse on India – Pakistan here. During campaigning over the past few months, Pakistan, as expected, featured highly in political party's often hyperbolic and charged speeches in order to get the public's support. For example, BJP's then candidate from South Delhi and now winner and MP, Ramesh Bidhuri, had previously said: "jab Modi PM banega who US, Pakistan, dono ko thokega." Voices such as Bidhuri, and many other BJP supporters who had decided that Modi would take an 'arm-against' stance with Pakistan from day one, were now educated by the fact that Modi is a smart and cunning politician, not a mindless and reckless nationalist.
Modi's tenure as India's 15th Prime Minister has started off on an immensely positive note. The fact that all members of SAARC, a group which has collectively not achieved anything significant and could be deemed as a largely failed organisation running primarily as a symbolic gesture yet representing the vitality of India's economic and security structure, were appreciative to Modi's invite, showing signs of nascent diplomatic rejuvenation in the region.
Even beyond Pakistan, India's challenging relations with Sri Lanka and neglected relations with states such as Nepal (last Prime Minister of India to visit Kathmandu was in 1998) were offered a fresh face and perspective during bilateral engagements as he accepted to visit all the neighbouring countries in the future. Now it is up to the new Prime Minister and his cabinet of ministers to maintain the momentum, expectations are high, failure not an option, and it is for Modi's to win or lose.