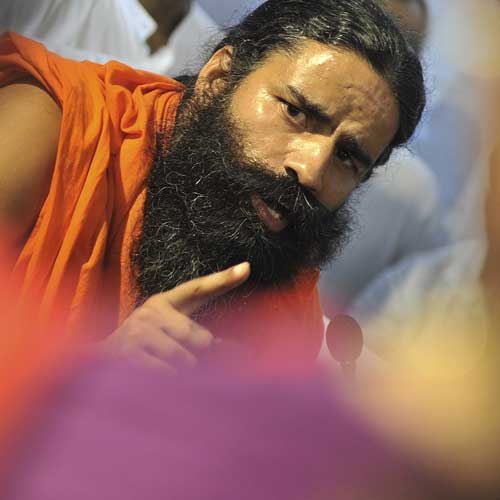 Who would have known that the stomach churning, inhumanly flexible yoga guru, Baba Ramdev, would have had such a good sense of humor.
Ramdev shot to fame as a yoga instructor. Over the past few years this man has made us laugh many times. Whether it be his sense of cross-dressing or his quirky statements, Ramdev sure is one of the best entertainer the country has seen.
Here is a look at some instances when Ramdev made us laugh:
- Baba Ramdev, in his bid to dodge policemen, cross-dressed as a woman. Pretending to be injured, Ramdev scurried around in his salwar kameez. This incident in Delhi stirred up quite a furore.
- Angry and miffed at the Congress' inactivity, Ramdev said India must kill 50 Pakistani troops for the five that the enemy has killed.
- "Rahul is an innocent boy who is mislead by the Congress," Ramdev commented while speaking about the Congress party's vice president.
- "Congress will get only 40-50 seats," said the uber confident BJP supporter.
- The science fraternity in the world would bow down in shame before what Baba Ramdev claims. He has claimed to cure AIDS and cancer through yoga.
- In a similar prophecy, Ramdev also said he would cure Manvendra Singh Gohil of his homosexuality.
- "We have imported everything, including their progeny," said Ramdev on the Gandhi family. In his bid to target the rival party, he pitched swadeshi to the public.
- "Rahul Gandhi goes to Dalit houses for honeymoon and picnic," said the saffron man, subtly hinting at the Congress honcho's behaviour. The Congress soon demanded an apology and refused to accept anything less than his arrest.
- "Are you a fool asking and talking about money when cameras and microphones are on?" he asked a fellow BJP candidate. This created quite a furore and the Congress condemned his statements. Ramdev was quick to retort, saying that the ruling party only wanted to defame the BJP.