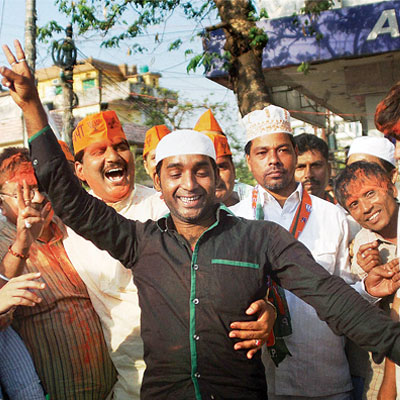 A landslide victory for the BJP has also meant a decline in Muslim representation in 16 Lok Sabha. So far as trends and results show only 21 Muslims are likely to enter the parliament against 28 in the outgoing Lok Sabha. The lowest-ever tally owes to the decimation of Congress, the Samajwadi Party and Bahujan Samaj Party, who had given mandate to maximum Muslims to contest. For the first time, since Independence, there will be no Muslim representation in parliament from Uttar Pradesh. Generally, there have been 28 to 40 Muslims in Lok Sabha.
Muslim candidates have who have won so far belong to Trinamool Congress, CPM, Congress, RJD, NCP, LJP, AIMIM, AIUDF (Assam), PDP, IUML and AIADMK. BJP's lone Muslim face Syed Shahnawaz Hussain also lost from the Bhagalpur parliamentary constituency in Bihar. He was defeated by Rashtriya Janata Dal's Shailesh Kumar by around 9,000 votes. Congress Muslim faces from Ghulam Nabi Azad to Salman Khurshid and Mohammad Azharuddin also lost elections.
On the basis of trends and results pouring in, it can be safely said that seven Muslims may win from West Bengal, four from Bihar, including Tariq Anwar, Taslimuddin], two from Kerala [IUML], two from Assam, three from Jammu & Kashmir that include three PDP candidates and one from Andhra Pradesh , one from Tamil Nadu AIADMK's Anwar Raja], Lakshadweep et al. The figure would be 20 or 21, once the final results are out. Asaduddin Owaisi is leading from Hyderabad on MIM ticket while Congress has done so badly that in Lakshadweep too the Congress candidate has lost to NCP's Muslim candidate.
An analysis of Muslim votes makes out that baring states where the BJP is in power, Gujarat, Rajasthan and Madhya Pradesh, in other places, they voted against the BJP. They voted considerably to the BJP
candidates in Rajasthan thus given a clean sweep to the BJP. The trend was similar in Gujarat and MP as well. But in UP and Bihar, they voted overwhelmingly against the BJP. But divided their votes between the SP, the BSP and the Congress. In Aonla, where Muslims form 33.90 per cent, Dharmindra Kumar of BJP won by two lakh votes. Muslim votes got divided amongst the SP, the BSP and the Congress party's Salim Iqbal Sherwani. A similar trend is visible in Barilley, Barabanki, Blundsheher and other seats as well. It looks, while Muslim votes got divided, the Hindu votes transcended caste barriers and voted
overwhelmingly for the BJP.
Muslim MPs
West Bengal
Idris Ali, AITC, from Basirhat
Sultan Ahmad, AITC, from Uluberia
Mohammad Salim, CPI (Marxist), from Raiganj
Badrudduja Khan, CPI (Marxist), from Murshidabad
Mausam Noor, Congress, from Malda North
Abu Hashem Khan Chaudhary, Congress from Malda South
Dr Mamtaz Sanghamita, AITC, from Burdwan-Durgapur
Bihar
Tasleemuddin, RJD, from Araria
Tariq Anwar, NCP, from Katihar
Chaudhary Mahboob Ali Qaisar, LJP, from Khagaria
Mohd Asrarul Haq Qasmi, Congress, from Kishanganj
Andhra Pradesh [now Telangana]
Asadudduin Owaisi, AIMIM, from Hyderabad
Assam
Sirajuddin Ajmal, AIUDF, from Barpeta
Badurddin Ajmal, AIUDF, from Dhubri
J&K
Mehbooba Mufti, PDP, from Anantnag
Muzaffar Husain Baig, PDP, from Baramulla
Tariq Hameed Karra, PDP, from Srinagar
Kerala
E Ahamed, IUML, from Malappuram
ET Mohammad Bashir, IUML, from Ponnani
Tamil Nadu
Anwar Raja, AIADMK, from Ramanathapuram
Lakshadwip
Mohammad Faisal PP, NCP, from Lakshadweep