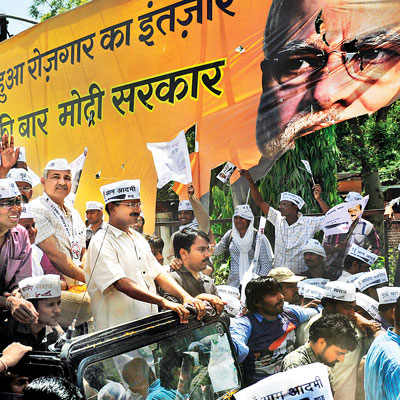 With Rs500 in his pocket, AAP convener Arvind Kejriwal filed nomination papers for the Varanasi Lok Sabha seat on Wednesday.
"I am poor man," Kejriwal told a large gathering of AAP caps at Lahurabir Chowk, where stands a statue of Chandrashekhar Azad, in Varanasi. "I don't have the kind of money that Modi and Rahul flaunt," the former Delhi CM said.
Kejriwal is a slight man with a loud voice. It doesn't matter how big the crowd. The voice carries to the last man at the edge of the gathering. On Wednesday, as he stood in the shadow of the martyr, Kejriwal trained his guns on two men and a flying machine: Rahul, Modi and the helicopter.
"Do you want helicopter democracy or democracy on the streets and roads of Varanasi. I was in Amethi yesterday (on Tuesday) and people of Amethi told me they have never seen Rahul after he wins an election other than in a helicopter. Is that sort of MP that you want? Tomorrow (on Thursday) Modi will come in a chopper to BHU and from BHU he will take a copter jump to Kashi Vidyapeeth and from there he will head to file his nomination. If he wins you will never see him," Kejriwal said to loud applause.
Kejriwal will be taking on Modi in Varanasi. Modi will file his nomination papers on Thursday. And without doubt the AAP chief has picked on a very strong opponent in his first tryst with Lok Sabha elections. At least that's what most people in Varanasi believe. For, if there's anything like a 'Modi wave' anywhere in India, it's in Varanasi or Kashi as Kejriwal prefers to call 'Varanasi sheher'.
"You see this crowd of AAP at Lahurabir Chowk, it's substantial. But tomorrow there will be a sailaab, a flood of Modi supporters swarming the city," said Mohammad Tauqiz, who is not a Modi supporter, but a believer in AAP, stoutly defending Kejriwal when a friend who's a Modi fan flays Kejriwal for being a 'Bhagoda (absconder)'.
The BJP is expecting at least one-and-a-half to two lakh people to accompany Modi to Kachcheri when he goes to file his nomination papers. News is that 25 tonnes of flowers have arrived in the city to make an impression on the city on Thursday. The police are geared to handle the situation as the city goes into "virtual lockdown".
Meanwhile, the tussle for the Muslim vote is at its height, with the Muslims more or less making up their minds to vote tactically to send Modi packing. "My family hails from Bihar," said Siddique, as if that explained his opposition to Modi. "Muslims of Varanasi will not vote for Modi."
Muslims account for at least 20% of the voters in Kashi. It is this constituency that Kejriwal is wooing. But will the Muslims let themselves be wooed by Kejriwal alone? There are too many suitors waiting in the wings. From the Congress to the SP and the BSP. There's even a son of sandalwood brigand Veerappan in the fray besides a member of the recently empowered 'third sex'. Everybody wants to corner the Muslim vote.
Then, there's the 'Bahubali' factor. Bahubali is euphemism for mafia. Kashi happens to be blessed with an array of Bahubalis. Congress candidate Ajay Rai is one. Till a week ago, there was another, the Quami Ekta Party's Mukhtar Ansari, also flexing his considerable muscles. Then, he pulled out, saying he didn't want to divide the Muslim vote.
That set people talking as to who will get the Muslim vote, Ajay Rai or Kejriwal? Rai went to town, saying that he was the natural son-of-the-soil choice. He even sent out feelers to old enemy Ansari. Strange!
But that's how Modi affects people, said Anil Rai, a Modi supporter, who will "at 8am sharp" on Thursday head for the Modi nomination.
On Wednesday evening, another Modi supporter was looking forward to Thursday morning: Pappu Chaiwala, whose teashop is where Varanasi's politically-inclined troop to talk politics over a cup of tea. This last month or so, it has been talk of Modi fever a cup of tea. "All of us are Modi supporters," said Raju Khanna, a motor spare-parts distributor, sporting a saffron Modi t-shirt. "Mark my words, Modi will win hands down."
Khanna spoke even as, in a congested lane in Beniyabagh, three kilometres down the road from Pappu Chaiwallah, late Ustad Bismillah Khan's son Ustad Zamin Hussain Bismillah Khan fumed at the media for "waking him" up at odd times of the night. Zamin Hussain was said to have been invited by the BJP to propose Modi's name to the returning officer, which he refused. "Why should I suddenly ditch the Congress? My father would not do that. I will vote for Ajay Rai," Zamin Hussain told dna.
It's clear, in Kejriwal's Kashi and Modi's Varanasi there are many currents at play. It will take a fight in a chopper to get a bird's eye view.