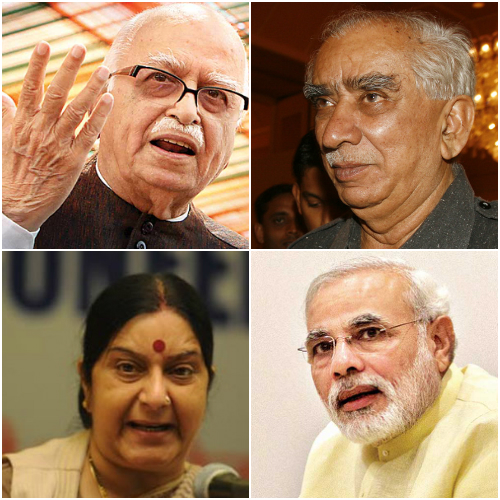 At a time when the Lok Sabha elections are just around the corner, and its prime ministerial candidate Narendra Modi is riding on a wave of popularity, dissent in the BJP's upper ranks is something the party can ill afford now.
Yet, several of the top echelons of the BJP have expressed their dissatisfaction about the party's activities, both privately and publicly, making it quite clear that there is serious discord in the top leadership.
Leader of opposition Sushma Swaraj made her unhappiness clear at the induction of B Sriramulu into the BJP, when she tweeted:
I want to make it absolutely clear that B.Sriramulu has been admitted in the party despite my stiff opposition.

— Sushma Swaraj (@SushmaSwarajbjp) March 14, 2014
She also opposed the denial of the Barmer ticket to senior leader Jaswant Singh, who was later expelled from the party for six years, saying she was "pained" at the decision.
Senior BJP leader Mukhtar Abbas Naqvi also took to Twitter to express his dissatisfaction at the inclusion of expelled JD(U) leader Sabir Ali. His tweet, which he later deleted, read: "Terrorist Bhatakal friend join BJP...soon accepting dawood........"
The BJP decided to drop Ali after others including MP Balbir Punj backed Naqvi's objection, but the widening disagreement within the party was quite clear.
Ali was not the first leader to be dropped after opposition from within the party. There was strong outrage at the BJP's decision to bring Sri Ram Sene chief Pramod Muthalik (the perpetrator of the attack of women in a Mangalore pub in 2009) into its fold from within the party. Within hours of his induction, the controversial right wing leader was shown the door.
Senior leader LK Advani wanted to contest the Lok Sabha elections from Bhopal. He was overruled, and asked to contest from Gandhinagar instead. Advani went into what was described as a sulk. A 24-hour drama followed, including several placatory gestures and meetings with other senior leaders at his residence, before Advani agreed to contest from the constituency chosen for him.
Murli Manohar Joshi was unwilling to shift from the Varanasi seat so that the BJP could field Narendra Modi from there, and is understood to have expressed his unhappiness to the party's CEC. He later said he would accept whatever decision the party took like a "disciplined soldier", and ended up having to vacate the seat for Modi after all, and contest from Kanpur instead.
Sitting MP from Lucknow, Lalji Tandon, is reported to have initially refused to vacate his seat for anyone but the party's prime ministerial candidate Narendra Modi. He refuted those allegations, and ended up giving up his seat for BJP president Rajanth Singh.