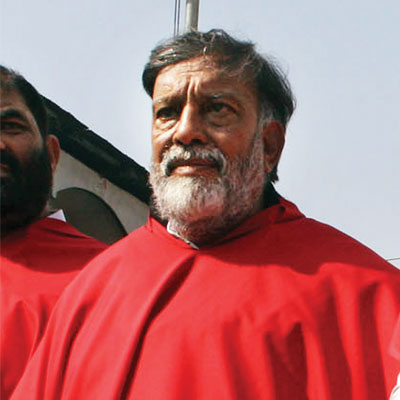 Waiting for luck by chance! Six times unlucky, Singh still wants to be the king!
At 72 Bhim Singh, the top notch Supreme Court advocate and the patron of National Panthers Party (NPP), is still rearing to go. Trying his luck for the seventh time, Singh has been dreaming of entering Lok Sabha since 1977.
From contesting against former prime minister Rajiv Gandhi in Amethi to trying his luck against BJP leader and former deputy prime minister LK Advani in New Delhi, Singh has left no stone unturned to win a seat in the temple of democracy. But every time he had to bite the dust.
"This is not interesting. This is tragic. This is seventh attempt and not the last," Singh who is popularly known as Professor, told dna.
Singh has filed his nomination papers for Udhampur Lok Sabha constituency where he is facing tough competition from Congress candidate and union health minister Ghulam Nabi Azad and BJP state spokesman Jitendra Singh.
"I have a desire that if I go to parliament I can secure the support of 300 MPs to amend the Article 370.... Indian constitution is not implemented in Jammu and Kashmir. There is a big misunderstanding.
Kashmiri Muslims are exploited by one or two families," said Singh.
Son of ex-serviceman who served in Indian National Army (INA), Singh was born in a humble family at village Bhugterian of Udhampur district. A Barrister-at-Law and senior executive member of the Supreme Court Bar Association, he was engaged by former Yugoslavian president Slobodan Milosevic in a UN Criminal Court in The Hague.
Singh has been the personal friend of slain Iraqi president Saddam Hussein and was not allowed to represent him during his trail.
NPP patron is the only man in the world who crossed Western Sahara (2,100 kms) on motorcycle from Morocco to Senegal in 1971 and the only Indian to travel 150 countries in the world on two-wheelers.
"During his travels he post-graduated in Law (LL.M) from London University with distinction. He has studied in Cairo University, Aligarh Muslim University, London University and Beirut. He was named by president Saddam Hussein to plead his case but US blocked his way to visit Iraq. He was a great friend of Palestinian president Yaseer Arafat and Libyan leader Col. Gaddafi," said Jagdev Singh, coordination secretary of NPP.
Starting his political career as a student leader in 1959, he had joined Congress before quitting from party as well as an MLA to form NPP in 1982. He won assembly election in 1983 from Chenani constituency by 259 votes. Singh was nominated to the Legislative Council for six years in 2003 but he resigned in 2008, a year in advance protesting against Omar Abdullah.
Author of seven books, Singh hopes to sail through this time round "to ensure that fundamental rights in the Indian constitution are also extended to the citizens of Jammu and Kashmir".
"I have no love for power or money. I have some ancestral land and I can survive. When I was studying I was selling newspapers to pay my tuition fee. I have been jailed 54 times and Supreme Court released me 18 times. I have spent eight years in jail," he said.