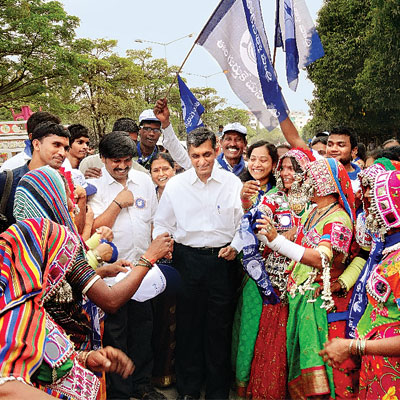 Not only does this 58-year-old shares his name with the iconic leader Jayaprakash Naraynan, but also is similar in his passion for cleaning the system and bringing about a change in the society.
Meet the JP of Andhra Pradesh — Jayaprakash who is a noted RTI activist, a whistle-blower and a former IAS officer.
Thanks to his campaign against the recent Rs100 crore scam in the medical PG entrance exams that the governor not only ordered its cancellation but also ordered a CID probe into it. He has been all along gunning against short delivery and faulty meters in all petrol pumps. Eventually quite a few of them were sealed.
Jayaprakash resigned from the IAS after he witnessed how NT Rama Rao was toppled by Chandrababu Naidu. The Maharashtra born is a doctor by profession and was former special secretary of TDP founder NTR.
It was then he launched a movement called Lok Satta through which he relentlessly worked for several issues including electoral and police reforms and Right to Information Act.
Later, on October 2, 2006 he converted the movement into an eponymous political party with the agenda of clean politics, good governance and fight against black money, use of liquor and caste factors in elections. His party — Lok Satta Party — contested four seats in the 2009 assembly elections but managed to win only one — Kukkatpally.
This year the party is contesting quite a few seats with Jayaprakash Naraynan being the most prominent one in fray from Malkajgiri parliament constituency. The slogan this time is "Modi for India and JP for Hyderabad". He is pitted against TDP's Malla Reddy, the owner of an engineering college.
When asked about his agenda after being elected as an MP, Jayaprakash told dna, "For quite some time now I have been working against issues like black money. Now, I want to take the fight to another level and with leaders like Narendra Modi, parliament is the right platform for it."
"The country loses at least Rs 5lakh crore per annum as black money. Political parties are not adopting concrete measures to contain the menace as they fear it would impact them too adversely," he said.
With hardly three days of campaign left, he is campaigning for 15 to 18 hours in Malkajgiri which comprises 7 assembly segments and has 30 lakh voters. "My work as an activist, administrator and now as politician could be the message so as to appeal for votes," says Jayaprakash whose party collected about about Rs20 lakh for campaign from the people.
Jayaprakash has had an uneasy relationship with pro-Telangana activists because of his staunch opposition the statehood demand. He was attacked by TRS MLAs during the turbulent assembly sessions in 2012 and 2013 when Telangana issue was discussed threadbare. He was attacked for his strong political views that Andhra Pradesh should not be bifurcated.
Though Jayaprakash has earned repute and respect as an activist, strangely he does not seem to have lots of followers in politics. But he is optimistic. "Yes I am a loner, but I will soon have a tribe (youth) following me," Jayprakash Narayan says signing off.