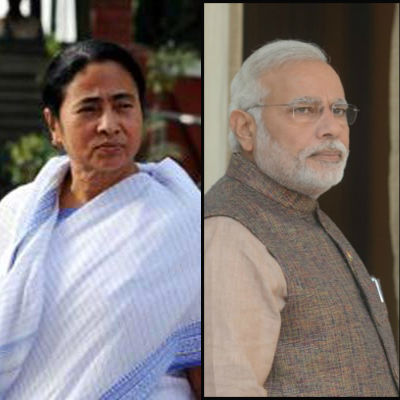 West Bengal Chief Minister Mamata Banerjee has been on the attack mode against the Bharatiya Janata Party (BJP)​ for some time ever since the party came into power.
Within days after BJP took charge of the country, she gave out a fiery rhetoric saying her party would pounce on the Modi government if they find that people's interests are harmed.
Didi's paranoia perhaps stemmed from a realistic fear of BJP's expanding influence across the country ever since the pre-election campaigning. The Centre too has been hawkish on Banerjee's governance in the state. This power struggle has manifested into a churlish tit for tat by both the sides.
Since the government has come to power, the West Bengal state government has been on the Centre's radar for various reasons. The Central Bureau of Investigation (CBI) took over the Saradha scam and was set register cases against the culprits which will put her in the dock.
The TMC has reasons to worry as it is already losing clout in regions where it was seen to be a formidable party. It was recently reported that 40,000 activists from Jangalmangal belonging to the TMC, CPI (M) and Congress had joined the BJP.
The TMC lost its influential leaders that included heavyweight Ashok Senapati. TMC leader and spokesperson Derek O' Brien's brother Barry O'Brien too joined the BJP along with his wife.
Following the murder of a BJP minority leader allegedly by TMC goons, the Centre has upped the ante against Banerjee's governance. It had sent a team to assess the situation to Illambazar in Birbhaum district. This was the second time the party had sent a team to probe into violence against their party workers. It also threatened to take action if the violence their party workers continued.
Didi of course didn't take kindly to it and after threatening to send a team of over own to a BJP ruled state, she finally found the opportunity post the gang-rape of a tribal women in BJP-ruled Madhya Pradesh. A five member team of Trinamool Congress (TMC) MPs is set to visit​ the region soon.
Banerjee also blamed workers​ belonging to BJP along with CPI (M) for the death of North Brook Jute Mill CEO SK Maheswari.
In the wake of a juggernaut BJP aiming to win over charted states, Didi has enoough reasons to be uncomfortable about the BJP.