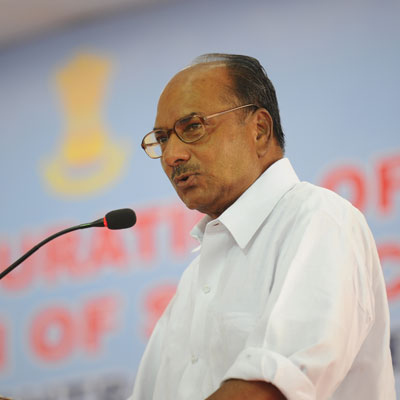 After the sudden resignation of navy chief Admiral DK Joshi, Western naval commander Vice-Admiral Shekhar Sinha, who is now the senior-most naval commander, has been desperately trying to reach the defence ministry to explain his position. Sources said Sinha has been unsuccessfully trying to seek defence minister AK Antony's appointment for the past two days given the fact that he is the frontrunner for the top post in the navy.
A source told dna that Sinha has even been making attempts to reach Antony through top officials of the defence ministry. "As the defence minister has ignored his request so far, it appears to be an act to convey his displeasure. He is now trying to put up a case for himself by approaching other key officials of the ministry," the source said.
Ironically, most of the mishaps involving naval warships, including three submarine accidents in seven months, have taken place in the Mumbai-based Western naval command, which Sinha heads.
Antony has also refused to visit Goa where he was scheduled to inaugurate a shore-based take-off facility for the Indian Navy's fighter aircraft such as MiG-29Ks and the light combat aircraft on Saturday. The Goa naval base also comes under the Western naval command.
The ministry of defence has initiated the process of appointing the new chief of naval staff after Admiral DK Joshi quit from his post by taking moral responsibility for a series of mishaps, including the fire on INS Sindhuratna on Wednesday, involving warships. The names of three top naval commanders will be considered for the top post after following the legitimate procedure.
After admiral DK Joshi's resignation, there was speculation that Sinha might also put in his papers because his command directly comes under the scanner for a series of mishaps. However, the following day, Sinha put all speculation to rest by refusing to quit. Vice-Admiral Sinha, commissioned in the navy in 1974, is the senior-most naval commander followed by Vice-Admiral RK Dhowan (vice-chief of the naval staff, but presently discharging duties as chief of naval staff) and Eastern naval command Vice-Admiral Anil Chopra.
Two officers, who were untraceable after a fire broke out on INS Sindhuratna, were declared dead on Thursday. Seven others were injured. The navy has ordered a high-level inquiry into the mishap. After DK Joshi decided to put in his papers after the mishap, Antony met prime minister Manmohan Singh and consulted everyone before accepting his resignation.