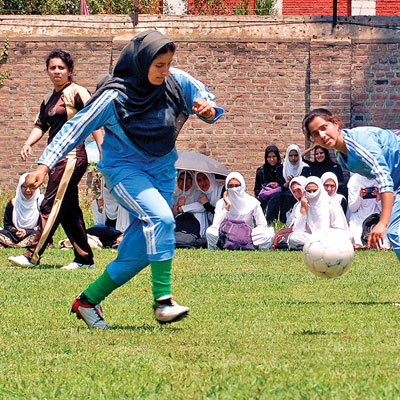 Shunning taboos and breaking stereotypes, young women footballers are bending it like Bechkam in conservative Kashmir in the fasting month of Ramzan.
Thanks to the J&K Football Association, which for the first time organised a major women's football tournament in Srinagar to explore the hidden talent of young girls in the restive valley.
At least 112 women footballers participated in the tournament that has been a runaway success in the valley that has of late seen the surge in moral policing by Islamists. Mallinson Girls School (MGS) VII defeated Government College for Women (GCW), MA Road, VII in the penalty shootouts in the final match on Friday.
What added zing to the tournament were the Hijabs (head scarf). Several girls donned the Hijab, which eventually became an intrinsic part of the sports uniform during the matches.
"Hijab is part of my overall personality. It is part of my uniform and I feel comfortable in it. Nobody has objected to it. In fact, I would say they (organisers) supported it," Iflah Qureshi, BA first year student and defender of GCW team, said.
The tournament was unique in the sense that the girls wore full body gear instead of knickers and t-shirts that is the standard dress code for woman footballers across the globe.
Organisers said the fully body gear instilled confidence among players and they could play their natural game with ease. "They played the game in tracksuits all through the tournament," SA Hameed, general secretary of J&K Football Association, said.
Women's football has been a no-go area in Kashmir. Battling odds some women have taken the plunge and joined the game irrespective of social mores.
"Around 80 per cent people do not encourage women to play football. But I got the support of my parents and that is why I continued playing the game," Nadia Nighat, BA first year student and right out of GCW team, said.
There are others who have made big in the football world. Seerat Shafi, a class XI student and MGS forward, was selected for Under-14 national camp some time ago. "I have been playing football since 6th standard. I now aim to play for the national side," she said.
The tournament was held one-and-a-half years after "Praagaash", the three-member rock band comprising drummer Farah Deeba, bass player Aneeqa Khalid and guitarist and vocalist Noma Nazir, was forced to shut shop following the Kashmir Grand Mufti Bashir-ud-din's fatwa calling music un-Islamic.
Organisers said the women's football tournament will be a regular feature from next year. "We got a good response this year. We will make this tournament a regular feature. Unfortunately, our exam schedule is such that when the football season starts outside the state our kids are busy writing exams here," Hameed said.