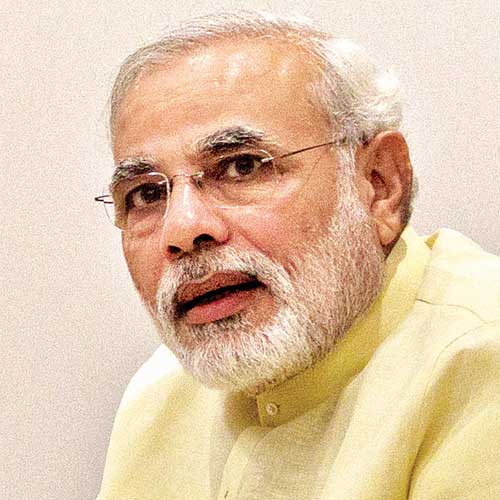 On Sunday evening when prime minister Narendra Modi headed to the BJP headquarters, it was a trip down memory lane for him. Among those waiting for him at the entrance was the party office's oldest staff member — Kashi Ram – who is in-charge of the photostat department and whom Modi remembered from the days he himself lived in a small room at 11, Ashok Road, 15 years ago.
Modi went up to him and shook his hands. "He asked me how I was but we could not talk more. When he was here, we used to talk quite often," says Kashi Ram.
It was Modi's first Sunday after becoming prime minister. He devoted more than an hour to the BJP workers, to whom he also made his first address as prime minister, thanking them for the party's victory and asking them to ensure that the people are not let down or left disappointed. His message was clear — the battle was not over with the election verdict. "This was an election of hope. That's why it's our responsibility to live up to the expectations of people," he said.
He particularly thanked the unsung heroes of the party "who were never seen on television screens or ticket queues". The BJP has decided to give an incentive equivalent to three months' salary to party office workers in recognition of their work, according to sources.
Modi, who interacted with party workers over tea, said he had sought time from party general secretary (organisation) Ram Lal to visit the party office. "He recognises so many people here," said BJP's national office secretary Arun Jain who had greeted Modi with a bouquet on his arrival at the party office along with BJP chief Rajnath Singh.
Reaching out to party workers, Modi said that though he was now prime minister, the word "karyakarta" was more important. A reflective Modi recalled how he had put up chairs when Atal Bihari Vajpayee had come to the party office after becoming prime minister. "When I had urged him to come to the headquarters he had asked me what was the need for it. I told him he was the PM and party workers will be so happy to have him among them... Now, I cannot imagine that you are honouring me so much," he said.
He emphasised on the importance of being in touch with one's roots saying it gave him strength.
The interaction at the party office, the first since he took oath as prime minister, came a day after his breakfast meeting at 7, RCR, with party general secretaries. Those who have watched him closely say Modi does not take a break from work. As Gujarat chief minister, he dedicated Tuesdays to the party when MPs and MLAs could meet him in his office to discuss any issue.
Addressing party workers, Modi said as prime minister his first major foreign policy initiative of inviting SAARC leaders for his swearing-in was a "right decision at the right time" and had sent a message to the world "which is still talking about it."
Modi spoke of the need to document the Indian elections. "When Tony Blair won his first election in the UK, there was a book Spin Doctor which documented his victory and strategies. When Barack Obama won, in an election when technology and social media was used there was a lot of debate... But nowhere in the world is election held on such grand scale as India," he said.
He said the massive election exercise in which 550 million people voted will change the 21st century but that it has not been represented before the world in the way it should be. "The world should know that democracy is in our dna," he said.
"This victory is a big festival of celebration of people's mandate. It is a story waiting to be told to the world. From Kashmir to Kanyakumari had there not been a common strong undercurrent the mandate that the nation gave to the BJP wouldn't have been so large. People have seen the governance minutely, and they understand the need for a majority to run the government well. Political scientists, electoral analysts and pundits should document this and present it to the world. This will also be good for the country," he said.
If Modi wanted to ensure an engagement between party and government, he took the first major step in that direction himself. The party faces elections in Maharashtra, Delhi and Haryana this year.