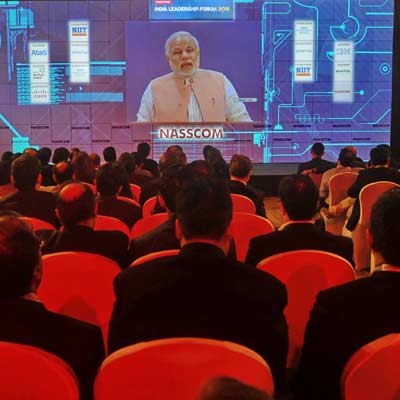 Keeping up with his recent trend of using technological capabilities to reach to the masses, BJP's prime ministerial candidate Narendra Modi addressed the NASSCOM India Leadership Forum today via video conferencing.
The flagship IT conference, conducted at the Grand Hyatt Hotel in Mumbai, saw Modi speak to a motley crew of tech experts and industry leaders, in a manner not too different from his recent address to the masses during 'Chai pe Charcha'.
"We are faced with several challenges but these can be converted to golden opportunities. We will put India on road to fast, inclusive development," stated Modi.
Appealing to the young crowd at the forum, Modi said, "We are among the most youthful nations of the world. Just imagine the energy and potential of this talent pool". He urged NASSCOM to engage actively to start an IT revolution in India.
"We have all basics available. I see the role of IT as a change agent. It empowers, connects and can bind isolated parts of India," he said.
Skills and training
Addressing the issues of skill training, he pointed out, "We need to empower our youth with skills for their development and the growth of India."
"ICT training is a major requirement. In Gujarat we have a programme called eMPOWER for this purpose," he shared. "Information Highway Network can play a very big role in transforming the nation. It can be a matter of great strength. What we need is the skills. NASSCOM should focus on this on its silver jubilee," said Modi
Digital India
Setting goals for the next decade in IT, Modi said, "By 2022, when we celebrate 75 years of freedom, India must be a different nation. And IT can be growth engine of New India. India should become a digital India, which is a knowledge based society and economy."
He also pointed out, "We are a very diverse nation. Every district has its specialities. We need networks to integrate this."
Counting on the potential of the upcoming sector, "I always say that IT+ IT= IT (Indian Talent+ Information Technology = India Tomorrow). IT sector can be shining light of brand India."
Digital democracy
Emphasising on the role of technology in implementing democratic processes, Modi said, "I feel a democracy's biggest strength is a strong grievance redressal system. Those corporate houses where information goes freely from bottom to top and where effective guidance comes from top to bottom succeed."
"EGovernance is easy, effective and economic, and can be a great problem solver for the people. It can bring minimum government and maximum governance," he stated. "We have to bring features of like and share in governance. And through social media we must ensure every citizen is involved in governance," he added.
Corporate Social Responsibility
Also urging the corporates to involve themselves social good, Modi added, "Through CSR you can take up any one problem India faces, form task forces and see that issue to its end."
On Social media
"For me social media is a source of inspiration. I can connect with so many of you through social media," said Modi. "But security has become an equally important issue," he added.
In conclusion, Modi stated, "I am personally a great advocate of technology. IT can and will transform our lives...an inevitable force in modern world. Sooner we adopt technology better, sooner we deploy it, the better."