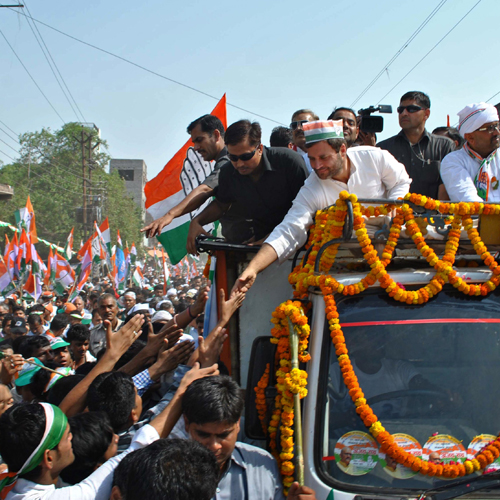 Unlike his adversary, Congress vice president Rahul Gandhi has been known to keep his speeches restrained within a short leash of time as well as assault. But the Gandhi scion, who seldom takes the offensive, had all his weapons out yesterday.
And taking a grand roadshow out in Varanasi—BJP prime ministerial candidate Narendra Modi's constituency—was one way to kick start this 'tit-for-tat' campaign, a response of sorts to Modi's rally at Rahul's turf.
And especially considering, Modi's recent altercations with the Election Commission over his own rally in the holy city, needless to say, BJP leaders were not too pleased with the show of strength. Arun Jaitley raise questions over why Rahul was allowed to carry a roadshow through Varanasi's Muslim dominated and congested Beniya Bagh area, the same place where Modi was denied permission to hold a rally.
In this election, Akhilesh Yadav and Arvind Kejriwal were allowed to hold a rally in Beniya Bagh in Varanasi. Why can't Narendra Modi do it?

— Arun Jaitley (@arunjaitley) May 8, 2014
Nevertheless, show did go on. Pictures and tweets from ground zero showed an enthusiastic crowd that followed Rahul and Ajay Rai, Congress' candidate from the city, across the city. The procession started from Muslim dominated Gol Gadda area, passing through areas like Maidagin, Beniabagh and Assi , canvassing a distance of 12 kilometres in four hours.
Much like his political opponent who visited the site before him, Rahul too, stopped by the statue of Madan Mohan Malviya at the BHU gate and garlanded it.
Real mass leader #RahulGandhi charms Varanasi pic.twitter.com/KQFMq9nZks

— pressbrief (@Pressbrief) May 10, 2014
Varanasi has come with full strength to bless Rahul Gandhi #KashiKiRaiAjaiRai pic.twitter.com/FktRYjY1xp

— INC India (@INCIndia) May 10, 2014
Look at the sea of people on streets of #Varanasi 2 welcome #RahulGandhi. They r locals, not from Gujarat pic.twitter.com/UVLbqoyv8O

— KB Byju (@KBByju) May 10, 2014
But the real meat of the rally, his final blow, if you may, came only at the concluding address at Chandauli. The Gandhi heir spared no words in his final clarion call to the voters (and the nation, perhaps), to help maintain the Congress' status quo.
Gandhi, who is touted by many, as perhaps, Congress' prime ministerial candidate took charge of the final battle. He spoke of agricultural reforms, heath benefits, food security, pension schemes, and women empowerment among other things. He listed the UPA achievements, the usual roll call, in what could be percieved, an attempt to revive the dying coalition.
But what we all heard, loud and clear, were the scathing attacks on his BJP counterpart Modi.
Accusing the former of hate politics, Rahul even analysed Modi's speeches, terming them as "full of anger". He compared them to his own, which he claimed were dispersed with love and concern.
He was also not very approving of Modi's use of first person rhetoric. "Few days back, I saw a poster in Delhi which had Modi's image and it was written that "Mahilaon ko main shakti doonga". Me, not we, only me."
His missive on agricultural reforms was accompanied with accusation against Modi of cheating on the people. He accused Modi of giving away Rs 40,000 crore worth of farmland at prices to the Adanis at Rs 1/mtre while seeking higher rates for land for Air Force. "The same Gujarat government, however, took seven years to provide land to the Air Force, and charged a lot more for it," he pointed out. Not failing to remind the public, Rahul added, "We revised 100 years old Land Acquisition Bill for farmers, to give the farmers a fair deal. No one can grab a poor farmers's land now, the Land Acquisition Bill ensures compensation four times the market price of the land."
"Why should our money be sent to China to produce goods that could have easily been made here," he asked. "We want those in China to buy goods that have 'Made in Chandauli' marked on them, rather than the other way around. We want industries to develop, because it will bring jobs,but we want a partnership between the rich and the poor."
Communal issues were discussed as well, as were issues of regionalism. Rahul Gandhi did not fail to remind the people of Uttar Pradesh how they were frequently mistreated in other states. "Shiv Sena and MNS attack the hardworking UP migrants, because governments there are not working in your interest."
"India is for everybody. It is for Hindus, Muslims, Sikh and Christians. It belongs to every caste and community, poor and rich people and it will remain for everybody," he said
Also raking up the issue of the snooping scandal, he chided at Modi for harassing women. "Modi wants to empower women, I suggest they first learn to respect women," he said. "Modi doesn't realise how powerful the women of India already are," he added.
BJP, as they were expected to, dismissed most of what Rahul said. But that doesn't change the fact, that Gandhi scion, for perhaps first time this elections, took the BJP's torchbearer head on. And while this roadshow won't be a game changer for the UPA, Rahul Gandhi is now more than just a political wild card in the Congress.