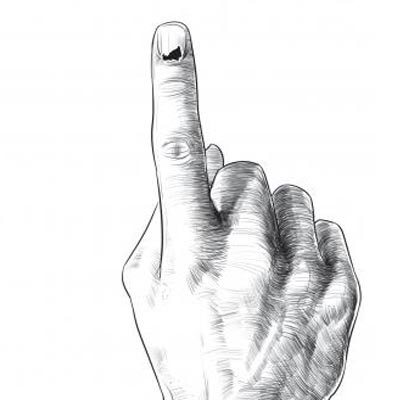 Voting today began on a dull note in Haryana with four % of the voters exercising their franchise in 10 Lok Sabha constituencies in the initial hours, while brisk voting was recorded in Chandigarh Union Territory with 11 % voters exercising their right.
Nearly four % of the 1.6 crore voters in Haryana cast their vote during first three hours of polling which commenced at 7 this morning, officials said.
"Polling will pick up as the day progresses," Haryana's Chief Electoral Officer Shrikant Walgad hoped.
Officials said polling had to be stopped for a brief period at two polling booths in Ambala Parliamentary constituency after EVM machines malfunctioned.
The 10 Lok Sabha seats are witnessing a four cornered contests among candidates of Congress, BJP-HJC BL combine, main opposition Indian National Lok Dal (INLD) and new entrant Aam Aadmi Party (AAP).
According to Chandigarh Deputy Commissioner-cum-Returning Officer, polling began in Chandigarh on a brisk note and nearly 11 % of the six lakh voters had cast their vote in the first three hours.
Among those who cast their vote early included HJC chief Kuldeep Bishnoi, who along with his wife Renuka and other family members exercised franchise at Adampur in Hisar district.
AAP's leader and Gurgaon candidate Yogendra Yadav cast his vote in Saharanwas village in Rewari district while greenhorn and INLD candidate from Hisar, Dushyant Chautala exercised his franchise in Sirsa.
Congress' Rohtak candidate Deepender Singh Hooda, son of Chief Minister Bhupinder Hooda, was likely to miss his date with the ballot as he is undergoing treatment at All India Institute of Medical Science (AIIMS), New Delhi, for his back ailment, sources said.
However, the Chief Minister accompanied by his wife Asha and other family members cast votes in their native village Sanghi in Rohtak district.
From Chandigarh, Congress' Pawan Kumar Bansal accompanied by his family members, cast his vote. However, two prominent women he is pitted against--BJP's Kirron Kher and AAP's Gul Panag are not registered as voters here.
In Haryana, the key candidates amongst a total of 23 include industrialist Naveen Jindal, Deepender Hooda, Avtar Singh Bhadana (Cong) and former Union Minister Rao Inderjit Singh (BJP).
The 17 candidates in fray in Chandigarh include former Railway Minister Bansal (Cong), who is seeking re-election for the fifth time and is pitted against three women in the four-cornered contest.