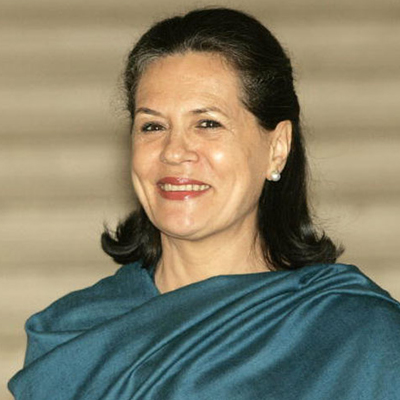 Cautioning against 'divisive forces' attempting to polarise the country, Congress president Sonia Gandhi Wednesday urged the people to vote for her party in the April 17 Lok Sabha election in the state.
"You have a great responsibility in this election to save the nation by voting for the Congress in majority and defeating those forces attempting to divide the country on religious and caste basis," Gandhi said at a public meeting here, about 100 km from Bangalore.
Asserting that the ruling party had worked for the poor, weaker sections, minorities and SCs and STs, she said the Congress-led UPA government had transformed the landscape of rural India by providing basic infrastructure and access to education and healthcare.
"It is our progressive policies that enabled the people to access mobile, computer and internet even in villages and small towns," she said.
"Social and welfare schemes such as Mahatma Gandhi National Rural Employment Guarantee Act, Right to Education, National Rural Health Mission and credit to farmers at low interest rate have lifted about 150 million people to middle class from below poverty line," she added, reading out from a prepared speech in Hindi.
The reserved Lok Sabha Kolar parliamentary constituency for Scheduled Castes (SC) is represented by the five-time winner and Union Micro, Small and Medium enterprises Minister K.H. Muniayppa, who is contesting for the record sixth time.
Taking potshots at the Gujarat development model claimed by the opposition BJP and its prime ministerial candidate Narendra Modi as a panacea for the socio-economic problems in the country, Sonia said they (BJP and Modi) want people to believe that no other model would work in the country and hence other states did not progress.
"It is a fallacy to think only the Gujarat development model works... It is a narrow view as there was more development in other states ruled by different parties. In fact, our development model benefited all sections of people, while the so-called Gujarat model benefitted only industrialists and crony capitalists who were given hundreds of acres of lands at the cost of farmers," she said.
Accusing the Bharatiya Janata Party (BJP) of hiding the real picture of Gujarat and projecting Modi as a saviour of the country, Gandhi said it was the Congress-led UPA government which had given right to food security and empowered farmers to retain their lands from being acquired by vested interests.
"As we have promised in our manifesto for this election, we will provide right to healthcare and housing, provide 100 million jobs for youth, safety and security for women and old-age pension for men, women and widows. Hence, vote for our candidates," she said.