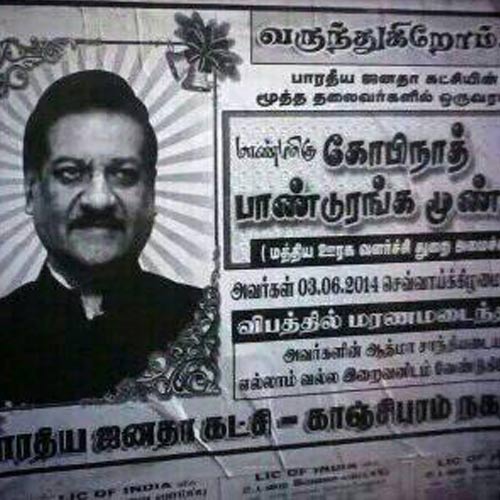 India is a demographically vast country and sometimes information is wrongly misinterpreted leading to outrage in political circles.
The latest to join the bandwagon is a group of BJP workers from Tamil Nadu who wanted to pay their last respects to the recently deceased BJP leader Gopinath Munde.
The situation took a turn for the worst when BJP workers put up Maharashtra Chief Minister Prithviraj Chavan's picture in the obituary instead of Gopinath Munde.
Pictures of the said poster went viral across social media. And even though, its authenticity could not be verified, the mistake is a huge embarassment for the party. Munde was pegged to be BJP's chief ministerial candidate for Maharashtra.
TN BJP workers use Maha CM Prithviraj Chavan's pic for Gopinath Munde's obituary poster...ufff pic.twitter.com/oGPwiWXcVr

— Shabbir Ahmed (@Ahmedshabbir20) June 6, 2014
However, such mistakes have been frequently witnessed during elections. Even during Lok Sabha election campaigns, various posters depicting Jayalalithaa in demi-godly ways received ire from public on social media.
Some twitter users put humour in context by saying:
@Ahmedshabbir20 they have mistaken the "will be" CM for current CM @rachitseth

— Sheev Malhar (@SheevMalhar) June 6, 2014
While others tried justifying the mistake as a 'genuine' one:
@Ahmedshabbir20 @gsurya Can't blame them. They hardly know who Munde was. India is too diverse.

— Vasant Shetty (@vasantshetty81) June 6, 2014
Another Twitter user spoke about the Nelson Mandela-Morgan Freeman mistake:
@Ahmedshabbir20 @PrabhuChawla it was in TN, where they put morgan freeman instead of Nelson Mandella.. And now this. Amazing India..

— बसU (@Basuduttsinha) June 6, 2014
Before this, an Indian owner of a billboard dedicated to Nelson Mandela was red-faced after the discovery that a photo of actor Morgan Freeman was used instead of one of the anti-apartheid hero.
The billboard was erected on the side of a road in Coimbatore in Tamil Nadu as part of memorials across India and the world to Mandela, who died on December 5. But Freeman's face loomed large in the billboard over small images of rights icons Martin Luther King, Mother Teresa and Mahatma Gandhi. "We should be proud that we were part of an era when they lived," read the Tamil-language condolence message on the board.
Cloth merchant Chandrashekhar, who paid for the board in a private capacity as a mark of respect to the former South African leader, said it was a mistake by the designer. "We will replace it with the correct picture of Mandela," the merchant, who uses one name, told AFP by telephone from Chennai, adding that he did not know how the gaffe occurred.
Read: Battle Lok Sabha heats up but funny posters leave parties red-faced
A chuckle is excused here...!! :p Nelson Mandela Memorial Billboard in India Accidentally Features Morgan Freeman http://t.co/WkKkyhs8iv

— Ankit Purohit (@ankitprht) June 6, 2014