Violent clashes erupted inside the Golden Temple complex in Amritsar on Friday morning even as the 30th anniversary of Operation Bluestar was being observed.
Television showed dramatic footage of Sikhs rushing out of their holiest shrine brandishing swords against each other in a violent confrontation.
According to reports, the clashes occurred after members of the Shiromani Akali Dal-controlled Shiromani Gurudwara Prabandhak Committee (SGPC) protested Shriomani Akali Dal (Amritsar) leader Simranjit Singh Mann's attempt to give a speech from Rostrum of the Akal Takht. One of Mann's supporters tried to snatch the microphone from Jathedar of Akal Thakt, Giani Gurbachan Singh, in protest.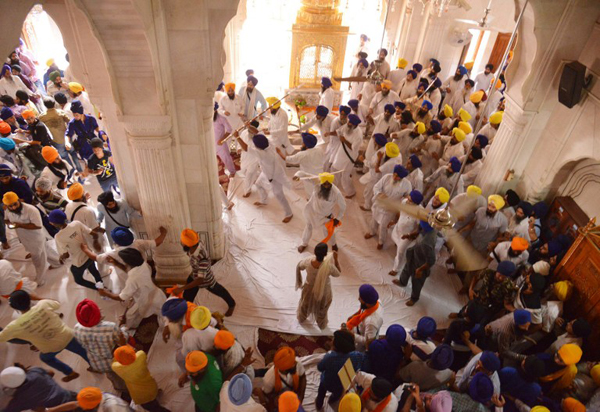 Image credit: AFP
This infuriated members of SGPC-run Golden Temple Task Force and they swung into action to take on Mann's supporters. The two groups attacked each other, using swords, kirpans and spears. At least six people have been injured, according to sources.
Shops in Amritsar were shut down, and media personnel were assaulted and their cameras were broken in the clash. According to ANI, a journalist was beaten up in the skirmish where armed protesters asked journalists to leave the temple premises.
Many radicals wore t-shirts with Bhindranwale's photo and shouted slogans of "Khalistan Zindbad". Others were seen wearing clothes inscribed with the words "We will not forget 1984".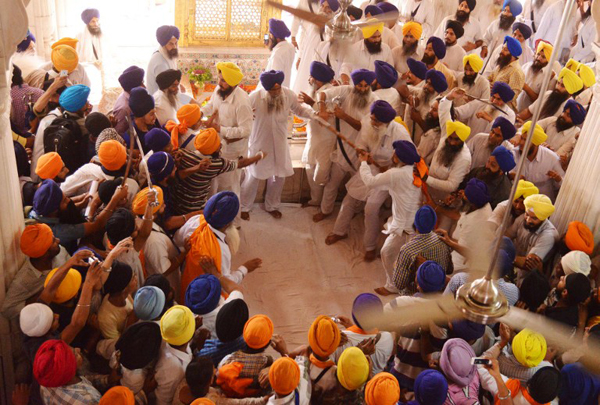 Image credit: AFP
Assistant Deputy Commissioner of Police, Amritsar (Special Branch), HS Brar, was amongst the policemen present at the holy shrine. "Forty to fifty policemen were present there when the clashes broke out. Five members of the SGPC Development Task Force were injured. We have rounded up seven people for investigation and will take the statements of the injured too," he said.
Meanwhile, the shocking act of violence has invited condemnation from various quarters with MP Bhagwant Mann denouncing it strongly. He said, "It was an unfortunate incident, this is what happens when we mix religion and politics."
The clashes occurred even as the 30th anniversary of Operation Bluestar was being observed at the Golden Temple. More details are awaited.
The Akal Takht is one of the five seats of power of the Sikh religion. It is located in the Harmandir Sahib (Golden Temple) complex. ​Shiromani Akali Dal (Amritsar), a splinter group led by Simranjit Singh Mann, has advocated the formation of Khalistan, an independent state for the Sikhs, through democratic process.​
Also Read: Make 'Khalistan' buffer state between India, China and Pakistan: SAD president Simranjit Singh Mann
With inputs from agencies.