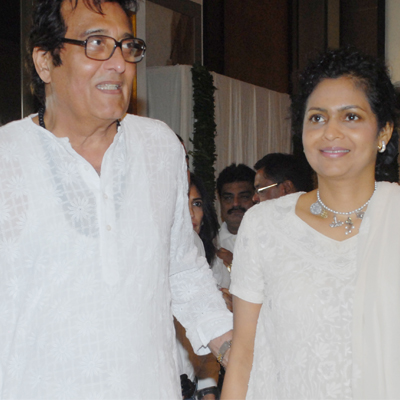 It's not only BJP Lok Sabha candidate for Gurdaspur seat Vinod Khanna is on a canvassing spree, his wife too is leaving no stone unturned for the victory of the actor-turned politician.
Kavita Khanna, who hits the road every morning, meet and greet voters and listen to their concerns and issues.
She starts her day as early as 5.30 am- does her exercise and meditation, meets party workers and visitors, takes stock of day's activities, ensures all visitors are well attended, and then begins her long day on the roads.
In middle of her morning activities, she also ensures her husband, Vinod Khanna's breakfast is prepared and served as per his dietary requirements.
"I enjoy every bit of my work. It is wonderful to see the energy and enthusiasm among people for Vinod and Modiji (BJP's prime ministerial candidate Narendra Modi)," she said.
"Today I have a 7 hour padyatra, I am going to meet the voters of Batala today," she said in Batala, Punjab on Thursday.
Kavita Khanna focuses largely on women voters. She attends more than 30 street corner meetings a day.
She explains what Vinod Khanna had done earlier for Gurdaspur Lok Sabha constituency as an MP and will do for them in future and seeks their votes.
"God has given us everything. We have enough for a decent living...and our only aim to be in politics that to do good for the society and Gurdaspur in particular," she says.