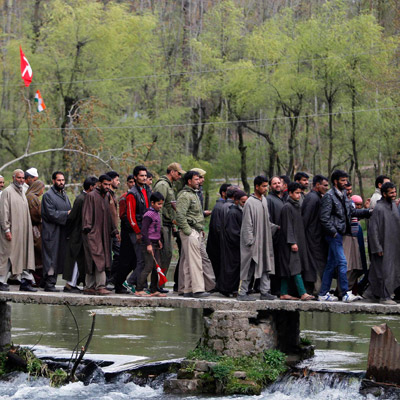 A village in Kashmir has emerged as a symbol of communal harmony, with a Hindu temple, a mosque and a shrine sharing a common yard.
Trehgam Village has a 400-year-old temple dedicated to Lord Shiva, a shrine of the great Sufi saint Syed Ibrahim Bukhari and a grand mosque (Jamia Masjid), all situated in a row with a pond in front.
Situated about nine kilometers from Kupwara District, religious harmony has been the underlying factor among the people of different faiths in Trehgam Village.
A resident, Tariq Ahmad, said people in the village respect all religions and existence of places of worship has never been an issue.
"Nothing has been done to the temple, it has been treated with respect by all Muslims and Kashmiris here. The temple has been taken care of very nicely. We have our mosque as well as a temple here and no one has caused any issues or ill-treated them," said Ahmad on Saturday.
The residents of the village have also taken the responsibility of maintaining peace, harmony and cleaning of the temple, mosque and shrine. They also feel that all religions should be equally respected.
"We are Muslims and it is our responsibility to take good care of the temple here. Islam teaches us to be compassionate towards other religions so that they will have a liking for you and that is why we have always respected this temple. We clean it and you yourself can check and even at the moment there isn't any priest here that is why we have cleaned it ourselves," said another resident, Muhammad Aslam.
Although no Kashmiri Pandit family lives in the village, it is said that they do come to offer prayers in the temple from time to time. Also, during the times of conflict the residents protected and renovated the temple several times.
The pond is believed to be a thousand years old and is currently the lifeline for the residents and villagers as it provides them with fresh water supply.