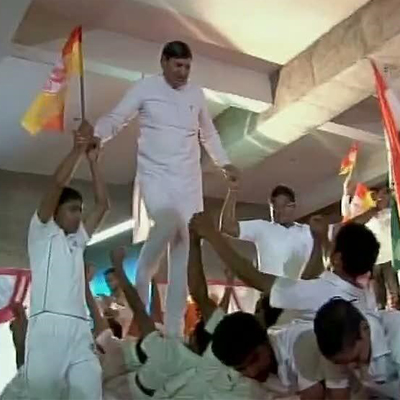 Just when we think, our leaders cannot go any lower than this, they surprise us anew with their brazen show of power and self-obsession.
The latest example being BJP's Rajkot candidate, Mohan Kundariya, walking over schoolchildren at an event.
Yes, You heard us right.
In what could be detrimental to the BJP's prospects in the Lok Sabha elections, a video showing Kundariya walking over school kids' backs at a yoga camp organised by the Arya Samaj at Maharshi Dayanand Saraswati Updeshak Vidyalaya, an all-boys school in Tankara, has gone viral on cyber space.
The video also shows Kundariya doing the balancing act with the help of a party worker, while other supporters are seen waving saffron flags.
While the video is drawing flak from all quarters, Kundariya defended himself by blaming the organisers for "forcing" him to do this.
A leading news channel quoted Kundariya as saying, ""I am not an insensitive person and would never hurt anyone physically. The students insisted that they wanted to display their physical and mental strength through yoga. As part of this I was asked to walk over a group."
Meanwhile, Kundariya told The Wall Street Journal "all of those who took part in the stunt were aged 25 and it took place on a visit to a religious school, where organisers asked him to walk over a formation by students."
In no time, the social media exploded with jibes at the video.
Tweeple used the hashtag #SharmKaroBJP to voice their dissent at the insensitive actions. Here is what they had to say:
Headed to the gym. Doing shoulders, triceps and walking on children.

— Vir Das (@thevirdas) March 24, 2014
BJP loksabha candidate from rajkot Mohan kundariya walked over children in a public function #SharmKaroBJP #BrutalBJP

— siddharthsinghtomar (@siddhartomar) March 24, 2014
BJP's candidate from Rajkot Mohan Kundariya must be sued from Election Commission for walking over children. #SharmKaroBJP @Djjpn @JoinAAP

— Vinay Krishna Yadav (@milovinayse) March 24, 2014
Is this guy for real? BJP's candidate from Rajkot Mohan Kundariya walkin over children at Yoga program pic.twitter.com/WiPq9nSVdD #SharmKaroBJP

— VPSN05 (@vpsn05) March 24, 2014
Mohan Kundariya stunt... another action hero from #BJP #SharmKaroBJP pic.twitter.com/QGStaAhkVh

— Kotyan (@BillavaKotyan) March 24, 2014