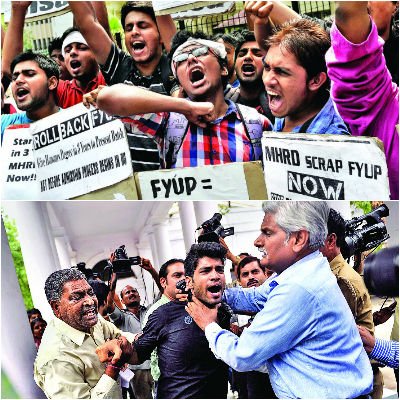 In the tussle between the Delhi University and the University Grants Commission (UGC) over the Four Year University Programme (FYUP), the University's Vice Chancellor Dinesh Singh blinked first on Thursday.
After pitching an alternate solution through some of his close aide to allow the stalled admission process in DU to continue, Singh wrote to the Commission on Thursday seeking its approval. However, the UGC remained adamant and is likely to stick to its demand for the three year programme.
The UGC and the University are deadlocked in a tiff over the duration of the University's undergraduate programme. While the University had introduced the four year mode last year itself, the UGC, acting at the behest of the HRD ministry, now wants to roll it back even though it had approved the course last year. The UGC has now threatened DU colleges that if they fail to admit students into the three year programme, it will stop giving grants to colleges.
On Wednesday, academicians and experts had proposed an alternate plan to the UGC so that admissions would not be further delayed. The UGC Standing Committee was to meet on Thursday evening to consider this solution, but the meeting was canceled abruptly after a senior panel member could not attend due to health reasons. If the UGC agrees to the plan, DU might come out with its first cut off list on Friday. Else both students and colleges will have to wait till July 1, when the High Court will hear the case.
DU's media coordinator Malay Neerav on Thursday announced the VC's decision of writing to the UGC. "For the welfare of the students, it is important that a consensus is reached. The VC has
forwarded the suggestions of the eminent citizens to the UGC for its approval," he said.
In the proposal sent to UGC, without letting go of FYUP, DU agreed to award honours degree after three years and honours in research after four years. This would suit the UGC, which insists on a three year undergraduate program and also the University. However seven of the 10 UGC Standing Committee members, who are teachers belonging to Left Wing Democratic Teachers' Front, have rubbished the proposal.
"We are now writing to the Visitor of the University (i.e. President of India) to intervene in the matter. We demand the resignation of Dinesh Singh"
—Nandita Narain, DUTA President