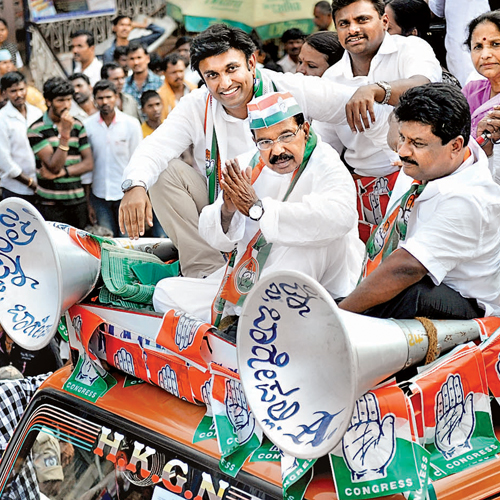 The long-pending and often repeated demand of more than 16 lakh voters of Chikkaballapur parliament constituency is a permanent solution for the acute shortage of quality drinking water . There has been no dearth for politicians promising to ensure sufficient supply of drinking water but none of the elected representatives ever attempted to find a permanent solution for the water crisis.
There are 19 candidates in the fray from Chikkaballapur but the real fight is expected to be between Congress and Janata Dal (S) while one can't afford to ignore the Bharatiya Janata Party. While the union minister for Petroleum and Natural Gas and Environment M Veerappa Moily seeking re-election from this parliament seat, HD Kumaraswamy, MLA from Ramanagara, has been trying his luck to defeat Moily in this election.
BN Bache Gowda is leaving no stone unturned to encash Narendra Modi wave. Aam Aadmi Party candidate Arkesh K, a retired police officer who makes debut in politics, is also trying his luck but many in Chikballapur consider him as one of the candidates set to lose his deposit.
GV Sreerama Reddy, who was defeated in the Assembly elections from Bagepalli, is aiming to get elected to Lok Sabha.The failure to fulfill a promise made during the campaign for 2009 Lok Sabha elections to provide a permanent solution for water crisis in Chikkaballapur and other cities and villages would be a major hassle for Moily's attempt to get re-elected from this constituency. Many consider Moily laying the foundation stone for the Ettinahole project to bring water to the region from Netrivathi tributary Ettinahole as an election gimmick. "The foundation stone was supposed to be laid near Ettinahole river but Moily laid the foundation stone in Chikkaballapur.
It is a political gimmick and an attempt to get re-elected to the Lok Sabha,'' said Madhu Gowda, a resident.However, many feel that the strategy to be adopted by Congress three days before the polling would be a decisive factor in this election.
They said that Moily got the support of Independent MLA SN Subba Reddy from Bagepalli assembly segment and Congress leader RL Jalappa, who retired from politics in 2009. "Jalappa has succeeded in convincing around 40 BJP leaders in Chikballapur to support Moily.
This constituency is known for electing, except in 1996 (RL Jalappa got elected on Janata Dal-S ticket), Congress candidates,'' said Sai Sudha, a resident.Chikkaballapur has eight assembly segments - Gauribidanur, Bagepalli, Chikkaballapur, Yelahanka, Hosakote, Devanahalli, Doddaballapur and Nelamangala. While Congress has four MLAs and also SN Subba Reddy (Independent), JD-S has two MLAs and the BJP has only one MLA.Meanwhile, farmers are not happy with the lack of irrigation facilities and poor quality of electricity. While the residents in cities have to depend on private water suppliers, farmers have to bring water in tankers to save withering crops.
"I spent Rs18,000 to bring water in tankers. I paid Rs400 per tanker to save withering grape garden. The electricity is being supplied in the night thus causing lot of problems for farmers who want irrigate crops,'' said Anandappa K.Farmers expect Kumaraswamy to deliver what he promises.
Some of them opine that Kumaraswamy has done a lot for Chikkaballapur and other cities in this region during his 20-month tenure as the chief minister. With Kumaraswamy unable to attend as many as roadshows as possible since he has to campaign for JD(S) candidates in other regions in the state, local leaders have taken up the responsibility to campaign for Kumaraswamy.CPI(M) candidate GV Sreerama Reddy is solely depending on the work done while he was an MLA to garner votes of farmers and working class. y.reddy@dnaindia.net