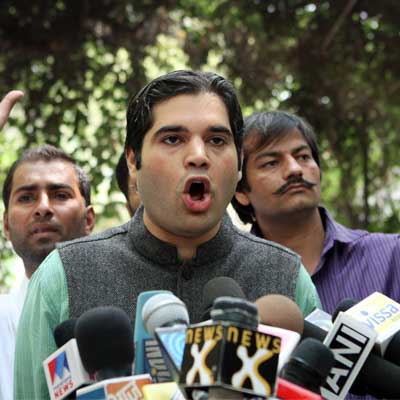 Apparently taking a dig at Arvind Kejriwal-led AAP, BJP leader Varun Gandhi today said he would rather use the Hindi expression 'samanya aadmi' for the common man instead of 'aam aadmi'.
"I will not use the term aam aadmi as it will mean loosing out on 50,000 votes..I will instead talk about samanya aadmi," the BJP MP from Pilibhit said at a rally here.
Gandhi, who is likely to contest from Sultanpur constituency in the upcoming general elections, questioned the lack of development in the district.
"When there can be development in Amethi, Saifai (Etawah), Kannauj, why is this district lacking in development?" he asked.
"I am here as an alternative...If you ensure my victory I can promise development," he said.
Gandhi also appealed to youths to join politics and spoke against dynastic politics.