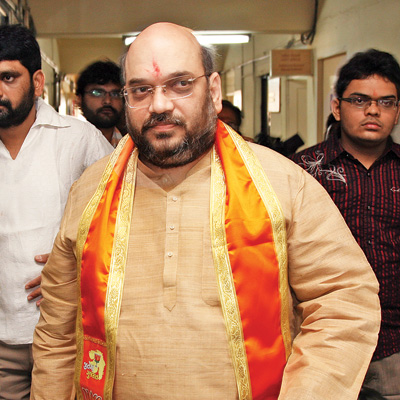 BJP president Amit Shah unveiled his team, over 60% of which is under 50, but kept out 34-year-old Varun Gandhi who was party general secretary.
The BJP's new team of office-bearers has 11 vice-presidents, including former Mumbai police commissioner Satyapal Singh, former chief minister BS Yeddyurappa and ideologue Vinay Sahastrabuddhe. Among the new faces in the list of eight general secretaries is Ram Madhav, the recent entrant from the RSS.
The Narendra Modi regime's formula of one family one post was one of the factors that was kept in mind while taking a decision on dropping Gandhi, whose mother Maneka Gandhi is a Union minister, party sources said. A fortnight ago, she sent a message to the party that she would like her son to be projected as the chief ministerial candidate for Uttar Pradesh saying at a public meeting in Pilibhit that it would be "wonderful if Varun was running the BJP government in the state".
While Varun Gandhi, an MP from Sultanpur, is likely to focus on UP, the polls in the state are due only in 2017. The Gandhi scion was inducted into Rajnath Singh's team last year along with 50-year-old Shah, who too was made a general secretary and later in-charge of UP.
Other party general secretaries like JP Nadda, Ram Lal, Rajiv Pratap Rudy and Muralidhar Rao have been retained in the new team, announced less than three months ahead of assembly elections in Maharashtra, Jammu and Kashmir, Haryana and Jharkhand.
"The criterion for the induction was organisational and ideological background. All those taken into the team have carved out a place for themselves working in the organisation in their states," Nadda told dna. Describing the team as "a combination of the young and experienced", he said the party had given adequate representation to women, scheduled caste, scheduled tribe and backward classes.
The RSS component is visibly entrenched in the team. While V Satish and Shoudan Singh have been retained as joint general secretaries (organisation), two others — Shiv Prakash and BL Santosh have been included.
Though Nadda said all regions had been represented, the team did not have anybody from Kerala, Jammu and Kashmir and West Bengal. Shah said at the national council meet, where he was ratified as party chief, a week ago that "there should be no state or union territory where the BJP is not a force to reckon with".
Besides Sahastrabuddhe, Mumbai MP Poonam Mahajan, former party office in-charge Shyam Jaju and Aurangabad mayor Vijaya Rahatkar represent Maharashtra.
Apart from Ram Madhav, the new general secretaries are Saroj Pandey, who was the BJP Mahila Morcha chief, Rajya Sabha MP Bhupendra Yadav and Ram Shankar Katheriya, Agra MP.
While Mukhtar Abbas Naqvi has been retained as vice-president, the others inducted in the category are Lok Sabha MP Bandaru Dattatreya, former state unit chiefs — Purshottam Rupala (Gujarat) and Prabhat Jha (MP), former deputy chief minister of Jharkhand Raghuvar Das, former MP Kiran Maheshwari, Bihar BJP's Renu Devi and Lucknow mayor Dinesh Sharma.
Among the 14 secretaries in Shah's team are Shrikant Sharma, who headed the party's media cell and Siddharth Nath Singh, who was in charge of West Bengal.
Of the 10 party spokespersons, five are new — GVL Narasimha Rao, Lalita Kumaramangalam, Nalin Kohli, Sambit Patra and Anil Baluni. Meanwhile, MJ Akbar, Shahnawaz Hussain, Sudhanshu Trivedi, Meenakshi Lekhi and Vijay Sonkar Shastri will continue as BJP spokespersons.
Anurag Thakur has been retained as the youth wing president and Aurangabad mayor Vijaya Rahatkar has been appointed Mahila Morcha chief.
4 from Maharashtra in Shah's team
BJP chief Amit Shah's team includes four party leaders — Vinay Sahastrabuddhe, Shyam Jaju, Poonam Mahajan and Vijaya Rahatkar — from poll-bound Maharashtra.
While Sahastrabuddhe is one of the 11 vice-presidents, Mahajan and Jaju are among the 14 party secretaries and Rahatkar will head the Mahila Morcha.
Vinay Sahastrabuddhe: A party think tank and in-charge of the BJP's National Good Governance Cell, he heads the Rambhau Mhalgi Prabodhini, a training institute in Mumbai for politicians, where the party's first-timers were mentored. As a student activist, he offered satyagraha and went to jail during Emergency for a month.
Poonam Mahajan: The 34-year-old Mumbai North Central MP had defeated her rival Congress's Priya Dutt by a margin of 1.86 lakh. The daughter of former Union minister Pramod Mahajan, Poonam has made a mark in Lok Sabha with her erudite speeches on the budget and atrocities against women.
Shyam Jaju: An ABVP full-timer, he joined the BJP during Pramod Mahajan's time and was made party office secretary in Delhi. He was later appointed secretary and was co in-charge of party's political affairs in Punjab.
Vijaya Rahatkar: A member of the state women's commission and a state committee member, she was the mayor of Aurangabad, the centre of Marathwada.