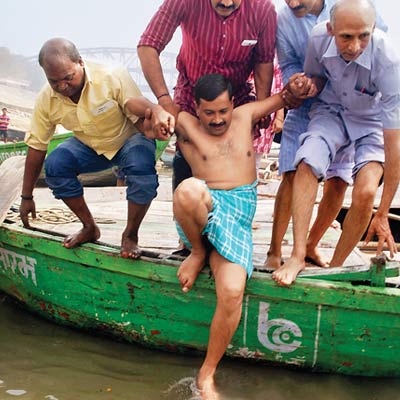 Aam Aadmi Party (AAP) convenor Arvind Kejriwal formally announced his candidature against BJP's prime ministerial candidate Narendra Modi from Varanasi at a rally in the holy city on Tuesday. However, his road show in Varanasi was marred by eggs and black ink being thrown at him and other AAP leaders by BJP supporters chanting slogans in favour of Modi.
"I have not come here to become an MP or PM. I have come here to expose Modi," he said at the rally at the famous Benia Bagh ground. He said both Modi and Rahul Gandhi were "kings" while he himself was an ordinary man contesting with meager resources.
"Eggs and black ink is being thrown at us. But have BJP supporters ever done something like this against Sonia, Rahul or Sibal? Have Congress workers ever shown black flags to BJP leaders? Never. This shows that both these parties are hand in glove. Both have been looting the country whenever they get the chance. I have taken Baba Vishwanath's blessings to fight against both these corrupt forces," he said at the sparsely populated rally.
Though Kejriwal proclaimed to be the quintessential "aam aadmi" (common man), he employed all the tricks in the bag of a professional politician, trying to please both the Hindu and Muslim electorate at the same time.
The AAP leader started his morning with an ablution in the Ganga. He visited the famous Kaal Bhairav temple and went around with 'chandan' (sandalwood paste) smeared across his forehead. To balance the picture, he had Muslim clerics on the stage with him, and complete silence was observed at the rally for the time the "azaan" (Islamic call to prayer) was heard from a nearby mosque.
Targeting Modi, Kejriwal said even top leaders were contesting from "safe" seats. "But I have to contest from Varanasi to stop the politicians from looting this country. I may not win but I want to awaken the people of Varanasi about the lies Modi is selling," he said and went on to lambast the "Gujarat model of development".
The AAP leader said Modi was working for the Adanis and Ambanis. "If you vote for Modi, your land will be grabbed and given away to big corporate houses like it has happened in Gujarat. If you vote for Modi, farmers will commit suicide, and the weavers and saree traders of Varanasi will go bankrupt. Modi will bring in FDI and the entire economy will be in the hands of a chosen few top industrialists," he said.
Kejriwal also blamed the media for playing into Modi's hands and said both the BJP and Congress had their own channels and were controlling a large section of the media. He said the media had been dishing out lies to project Modi as the best prime ministerial candidate over the past one year and had been touting Gujarat's development through false stories. He went to the extent of calling a section of the media "anti-national".
No special security for Kejri's rally
No special security arrangements were made for Arvind Kejriwal's rally is Varanasi despite an alert from the Intelligence Bureau. Irshad Ahmed of Aam Aadmi Party member said, "There were five gates all together but there was no proper security arrangements at any of these gates." Out of three metal detectors only one was placed at one of the gates and the other two are lying in the police truck. - Saiyed Faiz Hasnain reports for Iamin.in, India's hyperlocal news