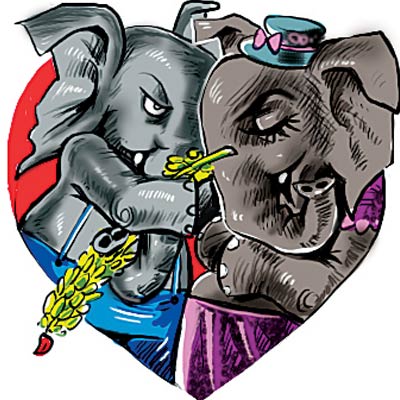 This Valentine season, not even animals can escape cupid's arrows. This, at least, is the case with female elephants, known as cows, and rhinos in Dudhwa National Park (DNP), about 250km from here.
Two tame cows, who are put to use by the national park for patrolling, recently eloped with wild tuskers. While one has come back, foresters are anxiously await the other's return.
In another case, a love triangle has led to a tragedy in the woods where a female rhino's capers with two young brothers led to a bloody duel between her suitors, ultimately resulting in one's death.
DNP deputy director Dr VK Singh has confirmed the episodes. The cows, Sulochna and Chameli, had gone out for a stroll in the forest with their newborns Vinayak and Suheli. They had been on a month-long "maternity leave", (they were relieved from patrolling duty) as they had recently given birth. While ambling around, they came in contact with a herd of wild tuskers, whose charms they couldn't resist.
The cows, says Dr Singh, followed the wild males deep into the woods. While Chameli came back to her post the next day with her calf, Sulochna is yet to return.
"There is nothing extraordinary about tame cows making away with wild tuskers. They return to their native place after some time," says Wildlife Trust of India deputy director and elephant expert Dr Sandeep Tiwari. He said he had also come across similar instances in Kaziranga National Park.
In another case of Valentine fever, rhino brothers Nakul and Sahdev fought a bloody battle to win the pleasure of the company of a female, who had been playing amorous games with both of them in a (literally) wild version of two-timing. Foresters say the duel carried on for over three days as the female watched on from a distance. Finally, Sahdev succumbed to his grievous injuries and Nakul walked off into the forest with his trophy wife.
"This is the season of love for animals as much as it is for us," says famous filmmaker Mike Pandey, who is known for his award-winning documentaries on the environment and wildlife. "Whether it is elephants, rhinos, tigers or other wild animals, this is the time of the year when they are ready for mating," he says.
With Sahdev's death, the rhino count in DNP has dropped to 31. Apart from the northeast, the national park is the only place in India where rhinos are found.