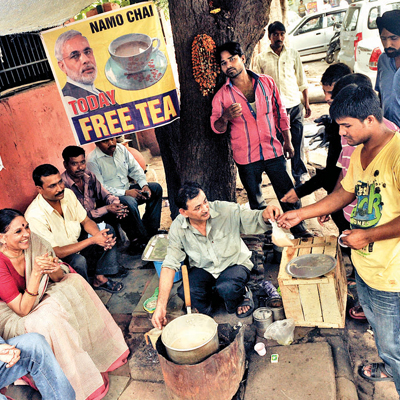 Nikitin Rustom Contractor of Vadodara wants to teach Mani Shankar Aiyar a lesson in courtesy and humility. The Parsi educationist is on a tea-stall naming spree. Over the next three years, he intends to open a 'Mani Shankar Aiyar Tea Stall' in 26 educational institutions across the country.
On Friday, he inaugurated a Mani Shankar Aiyar Tea Stall in Netaji Nagar, a government colony in New Delhi. The proud owner of the capital's first Mani Shankar Aiyar Tea Stall, Amrish Pandey, who happens to be a die-hard Modi supporter, celebrated by offering free cups of 'Mani Shankar Aiyer Tea' to passersby.
Pandey said he was happy to pay back Mani Shankar Iyer in the same coin that the Congress leader had paid Narendra Modi with at the AICC meet before the elections.
Jeetan Ram, a daily-wager who got a free cup of tea from Pandey, said this was how those who looked down on people should be treated. "Never mock another person's work. Lots of people do lots of things to earn a living, that should be respected," he said.
Forty-two-year-old Pandey has been selling tea to make a living for the last 25 years. "My customers know that I am a Modi supporter and were always asking me for a free cup of tea. Today, I was able to fulfill their demand," said Pandey.
Regulars at Pandey's tea stall include government employees, policemen, daily wagers, mechanics and staff from nearby shops.
On Friday, author and social activist Jaya Jaitley was also at Pandey's 'Mani Shankar Aiyar Tea stall'. An old friend of Aiyar from her college days, Jaitley had a piece of advice for Aiyar: "It's better to send a message with a laugh than make a bad joke."
Contractor, who stood shoulder to shoulder with Pandey on Friday, said, "The election results established the old saying that arrogance (of Aiyar) never pays and humility (of Modi) always does."
On May 16, the day election results were declared, Contractor opened a Mani Shankar Aiyer Tea Stall at Vadodara railway station. On May 26, when Modi was sworn in PM, he inaugurated another on Faramji Road behind the Vadodara railway station.