When it comes to weather there is an element of uncertainty. And Monday can bring that to the fore. The Met has predicted heavy rains which will hit rescue and relief operations.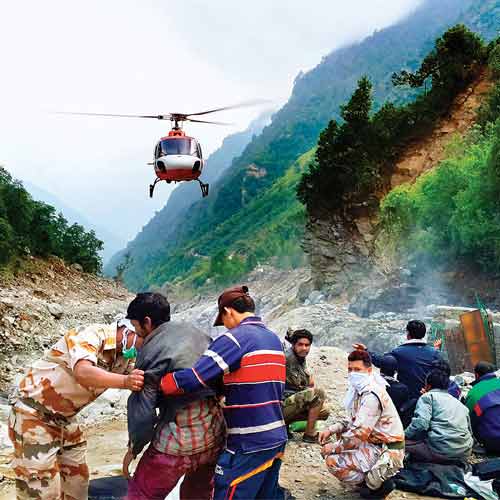 The defence forces fought challenging weather conditions on Sunday to evacuate almost 12,000 people from the upper reaches of flood-ravaged Uttarakhand. While a total of 82,000 people have been rescued so far, more than 10,000 are still stranded.
"No one can predict the weather, but if we get a clear slot of four to five hours, we should be in a position to do this job. Our main worry is that evacuation becomes difficult once it starts raining," Air Marshal SB Deo, IAF's chief of air operations, said.
The weather department has predicted fresh rains on Monday and Tuesday.
Talking about Sunday's operations, Deo said: "It's been a red-letter day for us. In spite of bad weather conditions, we carried out 250 sorties and rescued and evacuated 3,100 pilgrims."
The army also resumed operations after a brief halt due to fresh rains and dense clouds on Sunday.
The Himalayan state's chief minister, Vijay Bahuguna, said more than 1,000 people may have died so far. "The tragedy is still unfolding and a conclusive figure can only be arrived at after the rescue teams reach the areas devastated by the rains of the last weekend," he said.
Deo said that local police have reached Kedarnath and Gauri Kund and are in the process of identifying bodies.
According to the army, a maximum of four days are required to clear Badrinath with only airlifting support if roads and bridges are not rebuilt. However, efforts are on to get land transport in order.
With reports of local taxis fleecing people, the state government has also deployed public taxis to ferry the victims.
Talking about the condition of almost 500 people stranded in Badrinath, Neelam Kapur, principal director general (M&C), Press Information Bureau, said: "They are in hotels. They have access to TV and their mobile phones are being charged, but rescue operations in Badrinath will be undertaken only after more critical areas are taken care of."