Villages and shrines cut off; the dead lie where they fell, those alive have nowhere to go.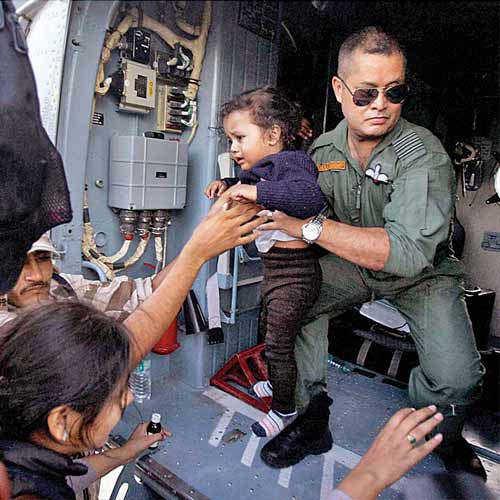 Unable to rescue hundreds stranded in flood-ravaged Uttarakhand, mainly because all roads leading to them have been washed away, the Centre has decided to deploy as many helicopters as possible in the axis of Badrinath, Kedarnath and Gangotri regions.
Time is running out and the death toll is expected to cross the 1,000 mark. The immediate priority is to rescue the maximum number of survivors in the minimum possible time.
"We estimate more than 1,000 people have died. Bodies are scattered all around," said Ganesh Godiyal, chairman of a trust in charge of several shrines in Kedarnath and Badrinath.
Hundreds marooned in Rambara village, which is a resting place between Kedarnath and Gaurikund shrines, may also have perished.
Giving rescuers a scare, the Met department on Thursday predicted more rainfall from June 23 and said bad weather and cloudy skies may affect rescue operations.
Hundreds of helicopter sorties have so far helped rescue 22,392 people. But 60,122 still remain unaccounted for in the state's flood-ravaged regions. The Union home ministry has put the death toll so far at 71.
Conceding that 22 helicopters are not enough to cope with a tragedy of such magnitude, home minister Sushilkumar Shinde said, "We have requested the defence ministry to deploy more helicopters to expedite the rescue operations in Uttarakhand. The defence ministry has agreed and additional choppers will be deployed soon."
To ensure smooth helicopter operations, the Union home ministry has asked ministry of petroleum to make aviation turbine fuel (ATF) tanks available as close as possible to operational helipads.
Meanwhile, the army plans to deploy 100 paratroopers, split into smaller teams, on the Gaurikund-Sonprayag road to speed up the rescue work. It has also decided to set up temporary helipads.
On Thursday, Shinde spoke to Uttarakhand chief minister Vijay Bahuguna, who said it was difficult to tell the exact number of deaths as the slush and debris have not been cleared yet. "It may go up. But we cannot say now," Shinde said.
The Union cabinet, chaired by prime minister Manmohan Singh, meanwhile, took stock of the disaster. According to the latest situational report of home ministry, 13 teams of the National Disaster Response Force consisting of 422 personnel, 2,000 ITBP personnel and more than 8,500 army personnel are engaged in rescue works in Uttarakhand.
In its report to the Union home ministry, the Uttarakhand State Disaster Mitigation and Management Centre has said that casualties in the affected areas may run into thousands as about 90 'dharamashalas' have been swept away in the flash floods.However, the toll has been kept at 150.

At least 50,000 stranded
At least 50,000 people are still stranded in Uttarakhand; about 90 dharamshalas have been swept away in the flash floods.
Defence ministry has deployed over 45 army and IAF choppers along with more than 10,000 troops. There are still 200 people in and around Kedarnath valley who will be evacuated on Friday.
Shrine safe, but no yatra for 3 yrs
The impact of the cloudburst and flash floods is so severe that it is unlikely that the Chaar Dhaam Yatra would start for three years.
An official said the toll would exceed the official figure of 150. About 2,000 were rescued from the temple region on Wednesday.