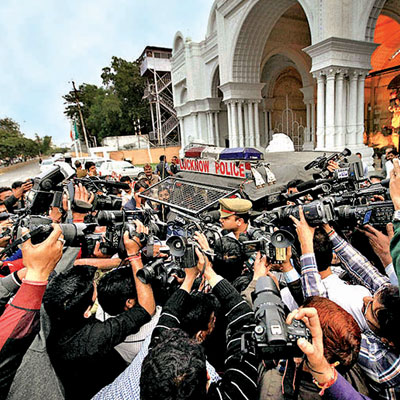 The Uttar Pradesh (UP) police finally pulled off the charade that they were expected to when they trundled out empty-handed from the sprawling 'Sahara Shahar' in Gomtinagar after failing to find Sahara India Group chairman Subroto Roy despite a more than two-hour-long "search operation".
They went to arrest Roy after the Supreme Court issued a non-bailable warrant against him on Wednesday. But everyone knew that with a friendly government in the saddle in UP, Roy would never be arrested from Lucknow.
"We searched the entire premises (of Sahara Shahar). He is not there. But we will continue to search for him at other likely places," said Lucknow SP Habibul Hasan as dozens of anxious TV reporters and camera crews virtually mauled him for a sound bite. He said he had met the Sahara chief's 92-year-old mother. He didn't forget to mention that "unki tabiyat bahut kharab hai (she is very ill)" in keeping with Roy's affidavit filed in the Supreme Court on Wednesday. The sham was rather obvious.
Sources within the group confirmed that 'Saharashri' (as Roy is known to his employees) was very much at 'Sahara Shahar'. The sources said he would surrender before the Supreme Court to avoid the disgrace of an arrest. Roy's counsels on Thursday filed a petition in the apex court pleading for the non-bailable warrant to be cancelled and stated that Roy was willing to appear in court.
No one had the flimsiest confusion about the UP police's intent from the moment the police arrived at the 'Sahara Shahar' gates. The party in uniform consisted of just one inspector and four constables in a jeep. "Sahara has an army of guards and over 5,000 employees in Lucknow. The police would have come a bit more prepared if they were really serious about arresting him," said a senior journalist watching the goings-on with some amusement.
The cops, in fact, were seen pleading with the guards at the gates to allow them in. Interestingly, the team of five managed to search the 375-acre estate in about two hours. The Sahara City has dozens of buildings, including offices, residences, meeting rooms and auditoria, and it would perhaps take a well-populated team a full day to conduct a "search operation" worth the name.
The apex court had ordered Roy to be present in court on Wednesday along with his group directors for the hearing of a case filed by Sebi regarding the refund of over Rs24,000 crore to about three crore investors, who are holders of Sahara's OFCDs (optionally fully-convertible debentures). Sebi contended that Sahara had issued the OFCDs in violation of norms and procedures.
Roy, however, did not turn up in court, as he had done on several earlier occasions too. His counsel pleaded that he was by his ailing mother's side. Three of his directors were present, but that did not douse the ire of the Supreme Court which issued the non-bailable warrant directing the police to arrest him and bring him to court by March 4. "We know how to bring him here," the much-angered bench remarked.